Project Adorno's A-Z of the London Underground


(Notes from the Underground 2004)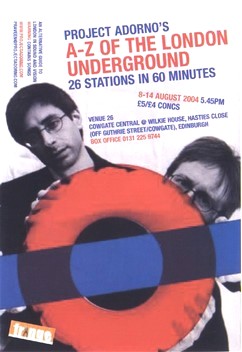 The brief: to visit 26 stations on the London Underground from A-Z, in a weekend, in the process writing a song or poem inspired by each location, ultimately creating an alternative cultural guide to underground London…
The idea became a reality and in turn became an Edinburgh Festival Fringe Show.

Day 1: Amersham
Praveen: So… where is it we're going?


Russell: Amersham.


P: why are we going there?


R: Well – it's this London Underground poster. Look at that. Weedonhill Wood, Amersham. Looks a pretty exciting place, eh?

And so it was that beat-poetry duo, Project Adorno found themselves beginning an epic journey around London, starting with Amersham…But let us explain. Sure, we knew London – it was the place we lived and worked in – but how often did we stop and take stock of the city as a living, breathing entity? How often did we view the place as a city for its own sake? We were familiar with London place names, but quite often this was only because of the existence of a tube station there. How well did we really know London at all? Living in South London all we ever saw were the soot stained tunnels of the Northern line – the Kennington to Morden branch surely being the most boring section on the entire tube network. Morden was our local town centre – a town quite literally at the end of the line, complete with its functional civic centre building, obligatory branch of Woolworths and a proliferation of pound shops. We yearned to see what else our city and the tube had to offer…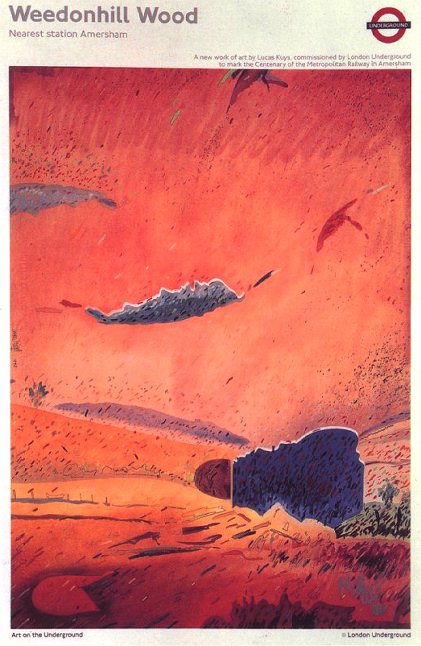 Mars or Weedonhill Wood? London Underground poster

I'd always had this fascination with Amersham – up there on the outer most north-west quadrant of the Metropolitan line. It seemed a romantic and exotic world – whilst still, technically (at least by tube standards) being part of London. I remembered seeing posters advertising Weedonhill Wood (at a time when London Underground were trying to promote usage of the tube) – Amersham being the nearest station. It wasn't just the place that intrigued me, it was also, I must confess, the wonderment of what the tube station and all those in-between would look like.
So, early one Saturday morning we just decided to take off and go there – to see how the Amersham of our imagination compared with real life and London as we knew it…
There was a community play on that day about the "Amersham martyrs" which we thought we'd go and see and whilst there, take in the town and/or whatever happened to be there….So already we were building up a picture – Weedonhill Wood – countrified, a community play being put on in a local church and also, talk of the Amersham museum (in the blurb about the play) – so a place full of culture and history. What's more we'd be travelling up on the oldest section of the London Underground.
It must be said, it took ages to get there, however the journey was somewhat more picturesque than our usual daily Northern Line grind. We eventually got into Buckinghamshire and arriving in Amersham we were technically 27 miles outside London. And it was raining... The first thing we saw as we stepped from the train onto the platform was a poster bearing the legend:
"You should have got off where? I Amer-Shamed of you. It's not unusual for someone to have one too many to drink, get on the tube, fall asleep and miss their station. Often they end up here, at the end of the line"
In an effort to get out of the rain we sought refuge in the nearest cafe we could find – we figured there would be a proliferation of quaint tea shops or coffee houses dotted around Amersham – in fact all we came across was a Wimpy bar.
Hmm….so much for culture then.
And what's more, the total population of Amersham appeared to visiting there at that particular time.
The rain stopped and we worked out that we were in New Amersham (also known as Amersham on the hill) – Old Amersham was where we needed to be for the Amersham Martyrs play, so we set off down the hill. This was more like it – apart from the big out-of town style Tescos, there was traditional high street with old fashioned pubs, shops and the Amersham museum. Tescos itself was in a bizarre location – not fifty yards from a small field containing chickens and a pig! We found the picturesque church where the play was being held and to our astonishment we learnt that that particular day's performance was totally sold out! We couldn't believe it – a community play in a church in far flung Amersham – sold out! "But we've travelled all the way up from Morden" we pleaded…but to no avail. Obviously not much in Amersham in the way of entertainment.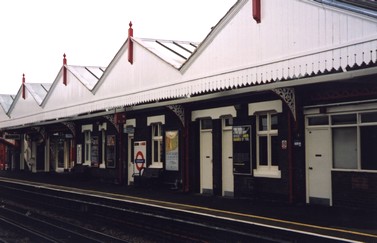 Amersham Station: very Camberwick Green
We decided we'd had enough of this place on the edge of the Chiltern Hills – we needed to get back to the grime of the capital – we were real Londoners and this didn't feel like part of our city. Walking back to the station we began wondering, if we had to choose, where would the real heart and soul of London be? What part of London truly personifies the London-ness of London? Looking at the tube map back at Amersham Station (looking more and more to our eyes like a station out of popular children's TV programme Camberwick Green) we singled out Bow – yes! Bow Bells, cockneys etc – surely a contender for the soul of London! Being in no particular hurry, we decided to go straight there. Oh, and we never did find Weedonhill Wood…
Amersham - the song
As part of our brief we decided to write a short song, poem or piece of prose about or inspired by each place visited. The song for Amersham ended up being called "Amersham Summer Holiday" – casting Amersham as a strange yet quaint, almost foreign country within a country. In essence this is very much how it relates to London – it is technically part of London (if we define all places covered by the London underground as being in London, that is) and yet is so "other" or Un-London-like. The rain during our visit adds an ironic twist to notion of Amersham as a summer holiday location. Musically it harks back to songs from children's TV programmes such as Camberwick Green and Play Away. Project Adorno go Derek Griffiths.

Amersham MP3 (2MB)

Bow

We were awash with questions. How does one really get under the skin of London? We all know the tourist version but what about underground or alternative London – those things the guide books don't tell you about? We knew how to get from A-B around the city using the underground but how often did we pay attention to what was happening above ground? We light-heartedly wondered how long it would take to visit every single tube station. (In fact this feat was recently achieved in a time of 18 hours beginning in 5.29am in Amersham and ending at 12.05am at Upminster).
But what about actually visiting the places themselves, getting out of the tube and feeling the ambience, taking the cultural pulse, maybe finding out something of each place visited? How long would this take?
We started thinking, well we've been to Amersham and now we're going to Bow – by pure chance visiting a station beginning with A followed by one beginning with B – what if we continue the pattern? Being both reasonably competitive people and up for a challenge (however, surreal), we came up with the following - how about we attempt to visit 26 tube stations A-Z in alphabetical order, taking back with us something that describes the essence of each place we've visited. Maybe writing a poem or song or something to encapsulate each one? Well, we were nearly at Bow – two down, 24 to go…
Bow of course is famous for the notion that anyone born within the sound of Bow bells is a true cockney…..so it seemed to us a good idea to find these bells and if possible, hear them in action and see if we could see any real-life cockneys around.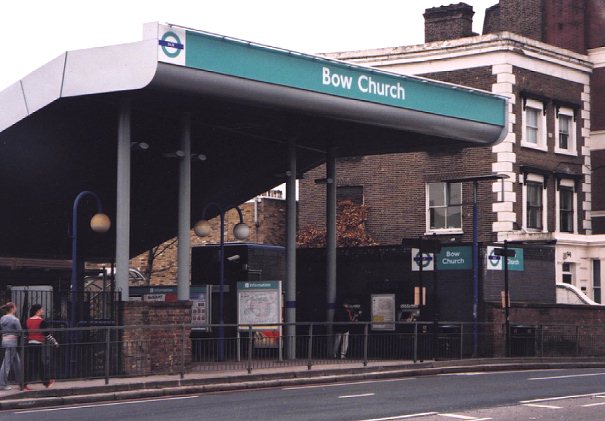 Bow Church: the petrol station school of architecture
There are two stations at Bow – Bow Road (District line) and a few yards further on, Bow Church (actually on the Docklands Light Railway). The church in question – the Church of St Mary's - stands in the middle of a large road junction – we assumed this was our church – the church associated with the bow bells cockney myth and also that alluded to in the story of Dick Whittington – where the bells urge him to return to London. There was even a pub across the road called "The Bow Bells".
No sound of any bells however whilst we were there and nothing to indicate that this church had any famous bells. The only thing of note, somewhat bizarrely, was a statue of Gladstone "with blood on his hands" – quite literally, someone (we suspect it was a politically enlightened student) had painted his hands red – what heinous crimes had he been linked with?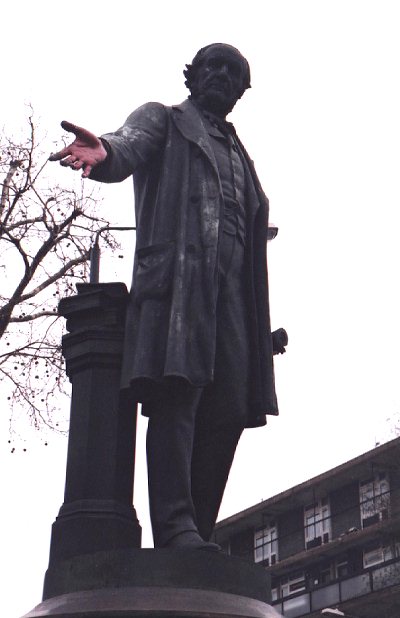 Gladstone caught red-handed with his fingers in the till…
However, it turned out that this wasn't after all the right church – the real "bow bells" had originated from St Marys…..located in Cheapside – somewhere near St Pauls. This is stretching the "cockney myth" somewhat! It certainly seems strange to consider that anyone born within the sound of bells located in the city should be considered a cockney.
Which brings us to another altogether more serious and scientific conundrum – we'll accept that the "Bow bells" are in the city – however, just how far away would one be able to hear them? Assuming they were ringing at the time of your birth - How far away need one be born to still be considered a cockney?
An academic in trying to work this out has come up with this rather useful map showing church bell decibel levels: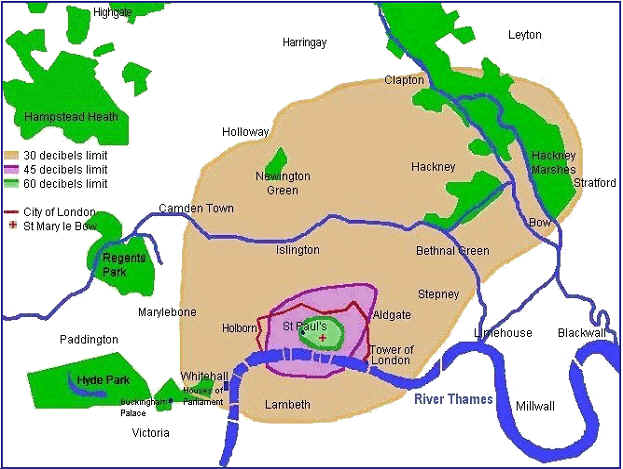 Church bell decibel levels
It would appear, with the wind blowing the right direction, that cockneys can be created as far away as Holloway in the north and Lambeth in the south…
Bow - the song
Somewhat inevitably this quickly became a cheeky cockney knees-up documenting the fact that the Bow Bells are really in St Pauls – this is in essence becomes it's punchline. Stylistically think "Laughing Policeman" and Benny Hill and you're not too far off the mark. I think there's a bit of Blur in there somewhere as well…

Bow MP3 (2.1MB)

Colindale

Our mission statement was now fully formed:

"To visit 26 tube stations A-Z – one for each letter of the alphabet, in strict alphabetical order, documenting and taking away an essence of each place visited, with the intention of building a picture of alternative London and in the process, possibly discovering the soul of London into the bargain"

Perhaps we'd find it lying around somewhere….

In addition we were attempting to do this in a weekend (ie 2 days) - in essence we only had 24 hrs…

Furthermore, how would we choose each actual station to be visited? We decided it would be more fun if they were chosen at random….

It was still early on Saturday, so, tube map in hand we closed our eyes and plunged a safety pin in the vague direction of the list of stations beginning with "C". We had accepted the challenge and our next port of call would be Colindale. It was time to go back to the suburbs on that old favourite of ours – the Northern line – this time going north and more uncharted territory.

We found ourselves travelling along Edgware branch of the Northern line – this provided a shock – just north of Hampstead the train emerged from the tunnel to go above ground – this didn't seem quite right somehow - apart from a short stretch of track leading into Morden station we'd never travelled on the Northern line in daylight before – it and its map colour coding being well suited (black). (In fact the Northern line contains the longest continuous tunnel on the network – running for 17.4 miles between Morden and East Finchley (via Bank). Another useless fact to know is that only 42% of the London Underground is actually "underground").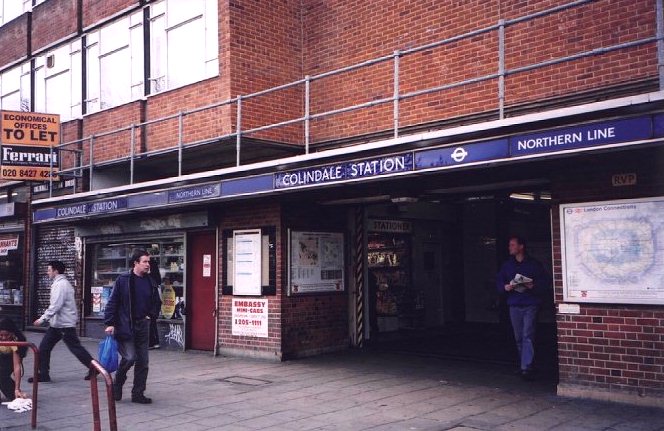 Colindale station

Truth to tell, Colindale is almost as mundane as its name suggests. However it does have two small yet distinguishing features. One is that it is home to the British library newspaper archives. The other is evident from the train as you approach the station – a huge Police training ground. Our interest was aroused when we spotted a real bona-fide Tardis style police box. There wasn't much else to give it away – the training ground itself seemed to consist of numerous football pitches with various football matches underway – so that's how the Police train? May explain a lot….

Upon arrival, we decided to head for the police training ground, yet despite being so obvious from the train window, we couldn't find it anywhere. We decided to ask for directions – and who better to ask than a policeman?! We found one loitering nearby and asked him where we might find the training ground. After giving us the most detailed set of instructions possible he then added "You're not terrorists, are you?" A bit late in the day if you ask me….

In actual fact the training ground was just round the corner and by this time our friendly policeman had decided to direct us in person. Along the way we started telling him about our recently devised "mission". I think he thought we were quite mad. He started telling us his life story. It turned out he was a member of the "Specials" – that is, the Police "Special Forces" which sounded quite exciting until he reeled off the sorts of things this involved – marshalling at street parties, helping old ladies cross the road, that sort of thing……..which sounded to our laymen ears at least, the sort of things that "ordinary" police men and women do anyway in the course of their daily duties. The police training ground looked more like an enforced labour camp the closer we got to it complete with a huge steel mesh fence and a security guard in a little hut reading a copy of the Sun. We took a few photos from across the road thinking we'd be arrested at any moment. We soon decided to high-tail it and head back to the tube – our work in Colindale done. There was clearly nothing else here. Our policeman said he would "accompany us to the station".

In order to keep things on a "random" keel we asked him to choose our next station reminding him that it must begin with "D"

. "Well" he said, "I don't use the tube much as a rule….I live in Dollis Hill….." "Perfect!" we cried "That'll do!" but he was on a roll by then "….and I've got a brother-in-law who lives near Dagenham..." We left him at the station entrance pontificating about all the stations beginning with "D".



Colindale – the song

Thematically there were two things going on here – on the one hand it's list song namechecking numerous fictional TV policemen and woman (Columbo, Cagney and Lacey etc) with a chorus alluding to Jerry Dammers and his pop band the Specials. Musically it's a lo-fi Blur/Damon Albarn inspired piece with softly sung vocals and cheap sounding acoustic guitar. We were quite pleased with this, although when performed I'm not sure if the audience ever really "got it". Perhaps there is some confusion in the fact that it's not really inspired by Colindale the place.



Colindale MP3 (2.3MB)

Dollis Hill

Geographically at least, Dollis Hill is only a few miles west of Colindale, however we were bound by the tube. This meant travelling south back on the Northern line to King's Cross then west to Baker Street before picking up the Jubilee line north to our destination point. Rather annoying really as we'd imposed a strict time limit on ourselves which we sensed was beginning to slip…
Mark Twain famously said of the place that 'Dollis Hill comes nearer to being a paradise than any other home I ever occupied.' We were looking forward to it. Upon arrival at the station we wondered whether we'd got the right place…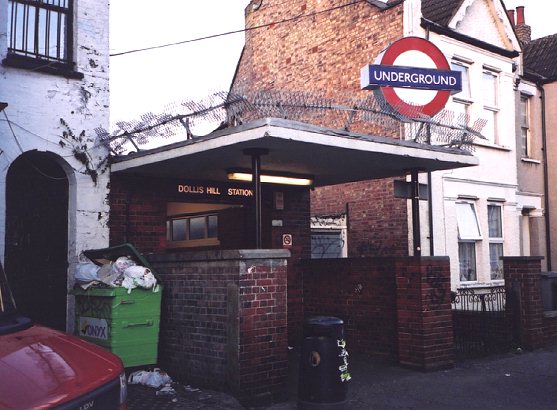 Dollis Hill: Nice wheelie bin
We decided to seek out Dollis Hill house, where Twain had stayed, and see whether this was a bit closer to the "paradise" he mentioned. Looking at the station's "places of local interest" map we spotted Gladstone Park where Dollis Hill House was supposedly located. This was interesting – Gladstone, whom we'd seen "red-handed" in Bow was obviously big in this part of the world also. It turned out that he'd also been a frequent visitor to Dollis Hill House and now even had a park named after him.
Somewhat aptly the park was very hilly, Dollis Hill house being at its highest point. After a steep climb there it was!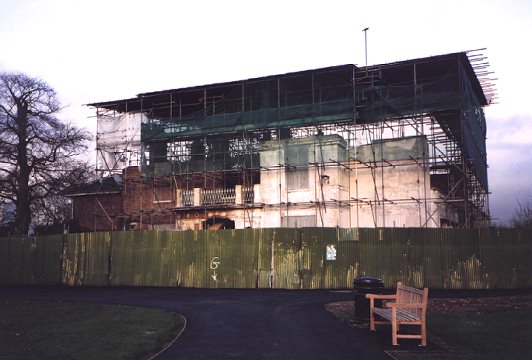 Dollis Hill House: No vacancies
We were somewhat disappointed. Surrounded by corrugated iron and scaffolding it certainly wouldn't be putting up any guests in this state.. We walked round and round the perimeter but couldn't find any actual reference to it being called Dollis Hill House. There was an information board nearby and this told us that the park and surrounding area were currently being refurbished and modernised. No mention of what they planned to do with the house though. Mark Twain must be turning in his grave….
Back at the station there seemed to be a wealth of under-employed London Underground staff doing very little at all and looking rather bored. In an effort to brighten up their day, and in the spirit of our enforced randomness, we asked them to choose our next destination point – the only criteria being that it had to be a station beginning with "E". They all looked rather non-plussed at our request – certainly not the usual type of enquiry about where to get off for Buckingham Palace or the like. Someone shouted out "Elephant and Castle" and before any more names could be plucked from the world famous tube map, we were through the barriers and on our way.
Dollis Hill – the song
One of the more successful pieces during our Edinburgh run –in which we imagine how Mark Twain's novels would have turned out if he'd lived in Dollis Hill….a fast-paced pontification on life in north west London, complete with fake banjo, and including the memorable line "Huck's hitched a hammock 'tween a pair of council wheelie bins"…
Dollis Hill MP3 (1.35MB)
Elephant & Castle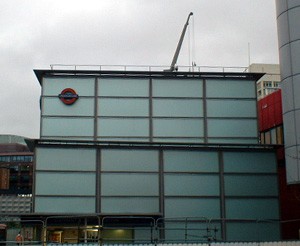 Elephant & Castle station: New Northern Line entrance
This was more like it – down south again, familiar territory to us and a straightforward tube journey along the Jubilee line to London Bridge where one small inter-change onto the Northern line would bring us out at the Elephant & Castle. Now this was a place we already knew and so we were prepared. And one needs to be, when visiting Elephant and Castle consisting as it does of a huge road junction and a gaudy pink coloured shopping centre. And nothing much else.
Sightseeing in Elephant & Castle
Along the way we mused about the origin of the name – why is it called the "Elephant and Castle"? There seem to be numerous theories…
The most popular of which is that the name "elephant and castle" is a corruption of "infanta de castile" – referring to Eleanor of Castile, the wife of Edward I. Eleanor was said to be "infanta" (the term deriving from Spain and Portugal) meaning the eldest daughter of the monarch without a claim to the throne. Unlikely….
Most likely, it's named after the pub…
The story here is thus – the "Elephant and Castle" pub in Elephant and Castle was converted from a smithy with the same name and sign as that used by the pub. The smithy, as was, had links with the Cutlers company – a guild representing workers who made steel implements such as knives, scissors etc – the guild used the same emblem – incorporating the image of Indian elephant ivory used for knife handles – in which the Cutlers company dealt. That takes care of the "elephant" bit.
Of course the other Indian link here is the "castle" bit of the image which is in truth a howdah on the back of an elephant – traditionally used for carrying travellers and hunters in India….
So history lesson over, time for a bit of shopping in the tatty pink shopping mall – not much there truth to tell – although we did learn that there are major refurbishment plans underway for this area – come back in a few years maybe. We did find one interesting shop amongst all the tat – a bookshop called Tlon books – run by Marik, an acquaintance of ours whose bookshop used to be located near Morden – we asked him to choose our "F" station…
Elephant & Castle – the song
This one never fully got off the ground. We had a lyrical idea with the refrain "Infanta de Castile, you're a glorious, god-sent thing" which we set to a musical dirge…it worked as a comedy piece but would need some re-working before becoming a full-blown song.

Fairlop

At this point we should note two things. Firstly, we had by this stage developed a scientific system/mechanism for choosing our various ports of call – ladies and gents let us introduce the "Random Underground Station Generator" (RUSG) – in truth this was a carrier bag containing bits of paper. On these bits of paper we transcribed all the station names beginning with the same letter – in the case of our "F" station we put into the bag all the stations beginning with "F" on separate bits of paper and got Marik to pull one out at random – clever, eh? This system would be used by and large for the remainder of our mission.
Secondly, and more excitingly as far as I was concerned, was the method we employed to check our progress. Always a good idea in a project to build in some sort of performance check or milestone chart – to help keep us on track (ho, ho) – and this project was no different. Upon accepting our mission, we worked out how much time we would have to complete it – the variables were all there – we knew the number of stations to be visited and the time available to do so…time for a graph: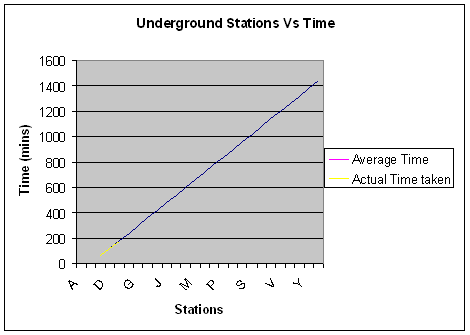 Ok – so total time we've got is 24 hours – that's 1440 minutes. After 5 stations the estimated (or average) time necessary to keep us on track is 230.4 mins (3hrs, 50mins and 24 secs) – represented by the dark blue line. In actual fact we've done 5 stations in 181 mins (3hrs and 1 minute – our actual time, represented by the yellow line) – well on track at this stage!
So, after breathing a sigh of relief we headed for our next station stop – Marik had picked out Fairlop – out on the east side of the Central line – heading into Essex. A bit of a trek…
So it was back to Bank and then a bumpy ride out on the Central line making sure we took a train bound for the Hainault loop. What on earth would we find of interest at Fairlop? All we knew of the place was the Fairlop Fair – a huge "bacon and bean" feast organised by Daniel Day in the 1700s that used to take place under a huge oak tree – known as the ancient Fairlop oak. The fair and the oak tree were long since gone but we wondered if we might find some historical reference points or evidence of Fairlop's cultural past – maybe even locate the actual spot where the fair took place?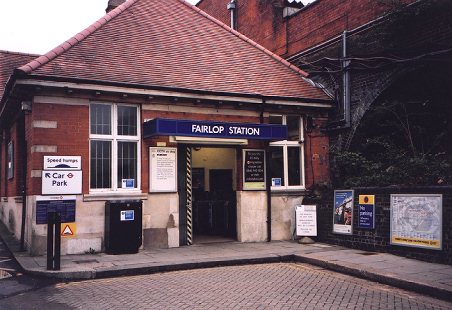 Fairlop station: Quaint
Fairlop consists of 3 residential houses and a golf course. And nothing much else. At least, this was the scene that greeted us as we wandered out of the tube station. That said, it is one of the more well-presented station frontages (there were general murmurs of agreement from our Edinburgh audiences every night on this point).
We had a vague notion of where the fair might have taken place – and we started walking along a very straight road flanked by the golf course on one side and a field on the other. We eventually arrived at the spot – now known as Fairlop Oak playing fields – basically a sports club containing a few football pitches and a huge car park. All rather sanitised and drab. We toyed with the idea of getting a cup of tea in the sports club building but upon peering through the window it appeared consist of a bar full of young lads playing some sort of bizarre lager drinking game. We decided to give it a miss…
On trudging back to the tube station a sudden thought occurred to me. As we had approached Fairlop on the tube I had been struck by the sight of a huge felled tree in a field nearby. We hit upon the idea of tracking this down – it seemed to symbolically represent our fabled Fairlop oak in some way. The original Fairlop oak had figured large in the history of Fairlop Fair – in 1767 a huge branch had fallen off the tree and, taking this as an omen of his forthcoming death (as you would), Daniel Day had the limb fashioned into a coffin. He had wanted to be buried under the oak tree but for some reason he was buried in Barking churchyard.
It certainly seemed odd to see such a sight here bearing in mind the importance of the original Fairlop oak. Was it more than mere coincidence? So, with renewed vigour off we went to track down our very own "Fairlop oak". It was on the other side of Fairlop and only accessible through a succession of fields. Our walk started off along a series of well used footpaths but we soon found ourselves veering from this path and into a muddy field with horses on the far side. According to our geographical estimates – sketchy to say the least bearing in mind we were working from a fleeting view seen from a tube train window – we figured that the felled tree was in the next field, accessible only by crossing the field we were currently in. Upon reaching the far side we peered through thick hedgerow – and Yes! – just visible was our "Fairlop oak". We were keen to take a photo but first had to get closer. There was just one problem – running in-between the field we were in and the one we wanted to get to was a stream – and there appeared to be no way across. Having come this far however, we were determined. There was nothing for it – we would have to wade through the water.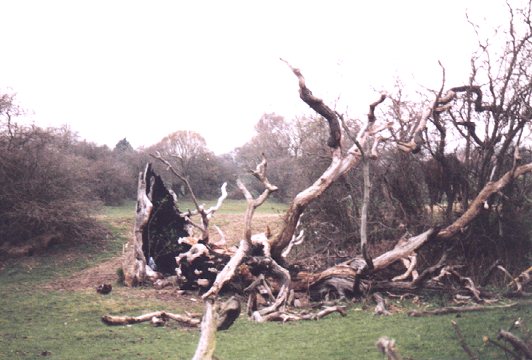 Our very own Fairlop oak
A few minutes later we were on our way back to the tube – caked in mud and grime, and soaked to the skin, but ultimately happy. Mission accomplished. But where to next? There was no-one around we could ask to choose our next station (except maybe a horse). Back at the tube station, our Random Underground Station Generator in hand we knocked on the door of one of the 3 houses opposite. There was no answer. Nothing for it, then, we'd have to do it ourselves. I plunged my hand into the RUSG……
Fairlop Fair – the song
This one turned into a rousing folk anthem which we became rather fond of! Quite a simple song using three chords and a refrain centring around the question "Are you going to Fairlop Fair?". It's a dialogue between two people, one asking essentially the same question (over and over again) and the other getting increasingly frustrated with the repetition. It reaches a big crescendo at the end with the line "Bacon and beans all around!" We enjoyed performing it, however, it got pulled from the Edinburgh show due to time constraints.
Fairlop Fair MP3 (1.4MB)
Goodge Street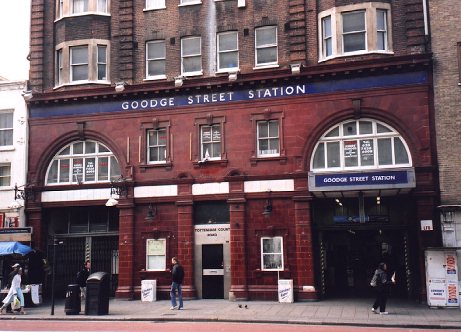 Goodge St Station
We were heading back into the city – bound for Goodge Street. A reasonably straightforward journey back along the Central line to Tottenham Court Rd and then from there, one stop northbound on the Northern line. A couple of facts about Goodge St station – it is actually located on Tottenham Court road. It is one of just a handful of tube stations which uses lifts instead of escalators. There is a deep level air raid shelter underneath the station. Pop singer Donovan wrote a song entitled "Sunny Goodge St". There is some debate about the correct pronunciation of the name- is it "Goodge" (short stress on the o's)or "Gooodge" (long stress). The automated voice over lady on the tube favours the latter.
Next door to the tube station is really where our Goodge St story begins – with the Church of Scientology. On the window outside was a large photo of Lisa Marie Presley whom we thought had tried to distance herself from the whole Scientology cult thing. Intrigued, we decided to venture in and found ourselves looking at some of their literature.
We were amazed at the number of celebrities linked (either currently, previously and/or allegedly) at one time or another to the Church of Scientology – many of them Hollywood stars – including Tom Cruise, Nicole Kidman, John Travolta, Priscilla and Lisa Marie Presley and Charles Manson…..
The Church of Scientology are apparently so desperate for high level celebrities to endorse them in order to help them recruit new members that they will bend over backwards in keeping them sweet. This seems most extreme in the case of Tom Cruise who admitted at one point that he had "a fantasy of running through a field of tall wheat grass with Nicole Kidman". Prior to a visit by Cruise and Kidman to the Scientology desert compound in America cult members cultivated and grew a field of tall wheat grass to enable Cruise to live out his fantasy during his stay there.
We shuffled back out into the street before we could be "converted", picking up a copy of the free "scientology personality test" as we went. The blurb indicated that there were three possible destinations upon leaving this world – heaven, hell or…Highgate!
Goodge St Shuffle – the song
Totally unconnected with the Scientology theme we'd encountered at Goodge St. this was a happy-go-lucky stand alone song designed to brighten the lot of the down-trodden commuter. The Goodge St Shuffle is a kind of dance one can do whilst waiting on crowded platforms. It's a light and airy, largely acoustic number and one of our favourites. It worked well on the Edinburgh High Street "unplugged" stages. Our equivalent of "Doing the Lambeth walk".

Goodge St MP3 (2.2MB)

Highgate

In essence this was an easy journey from Goodge St – straight up northbound on the Northern Line. Should do wonders for our graph, I mused to myself… And so to Highgate – home to the famous Highgate cemetery which in turn is the last resting place of Karl Marx. We'd always wanted to visit his grave so this seemed like the perfect opportunity. Moreover, a visit to Highgate cemetery is a must in any alternative guide to London.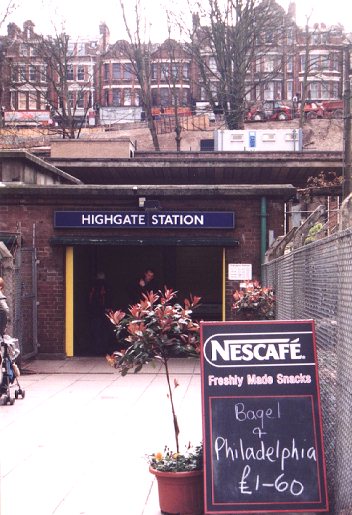 Highgate Station
Upon emerging at Highgate station we saw the disused Highgate overground station that the Northern line were going to take over for a link up to Highbury & Islington. This all got shelved with the onset of World War 2 and now the station, still visible, is overgrown with weeds.
As it turned out, Highgate cemetery is nowhere near Highgate tube (Archway or Hampstead might have been better bets) – however we had decided on our destination, so there was no turning back – a long walk ensued.
It was worth the walk. The cemetery is a sprawling, overgrown treasure trove of a place. The fact that it is so unkempt adds to its charm in a world that is increasingly sanitised and streamlined. There are numerous "celebrity graves" at Highgate and staff are on hand at the entrance to guide you to a grave of your choice. The majority of visitors are there to see the grave of Karl Marx and so I think there was some surprise when we asked where we might find the grave of Sir Roland Hill, inventor of the postage stamp.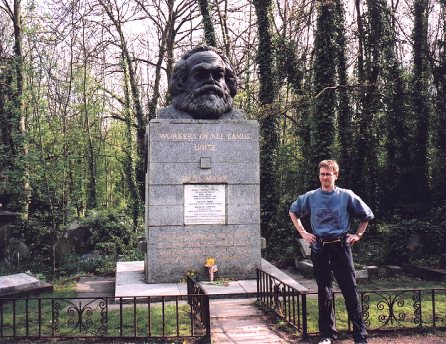 At the grave of Karl Marx: To pose or not to pose?
We did also take a look at Marx's grave – and to be honest, you couldn't really miss it – the headstone consisting of a huge bust of the man. It seemed rather ironic in a way that his grave should so completely overshadow and "out-do" all the other graves in the place. There were also two apparently contradictory notices up at the cemetery entrance, one advising that no photography was allowed and the other that no posing be undertaken at gravesides….hmm, we wondered if standing by a gravestone in the absence of a camera could constitute posing… (Ok so we did break the photography rule, but debate rages about whether Russell (pictured) was posing!)
For some reason no song or poem materialised for Highgate. Instead we rather liked the aesthetic quality of this picture, summing up the ramshackle, unspoilt beauty of the place: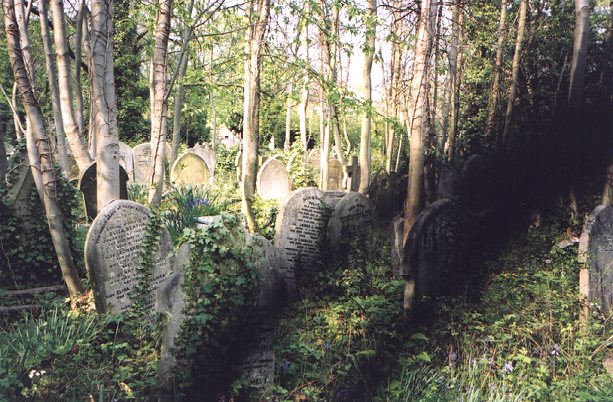 There being only two stations on the underground network beginning with the letter I, we decided to toss a coin for it.
Ickenham

Of all the stations in all of London beginning with the letter I, this had to be the furthest from anywhere (The other being Island Gardens). This was going to crucify our graph! From Highgate we needed to travel south on the Northern line to King's Cross and from there pick up the Metropolitan line westwards all the way out to wards Uxbridge – Ickenham being a just few stations short of this. (We could have taken the Piccadilly line but figured this would have taken even longer).
Ickenham has two historical landmarks, these being an old water pump in the town square and a famous clock which is housed on the side of Ickenham library. But there was something else we were more interested in. Ickenham is mentioned in the diaries of Samuel Pepys who visited Swakeley's House in 1665. During his visit the owner of Swakeleys', Sir Robert Vyner, showed him the body of a black servant boy whose body had been dried in an oven after he had died of consumption. It was rumoured that the body was kept in a cupboard and shown to guests, as a sort of artefact of interest when they visited (bearing in mind that many people had never seen a person with dark skin before). The alleged body in the cupboard may have some bearing on the numerous ghost sightings that have been reported at Swakeleys in modern times. We decided to pay a visit to Swakeley's House ourselves.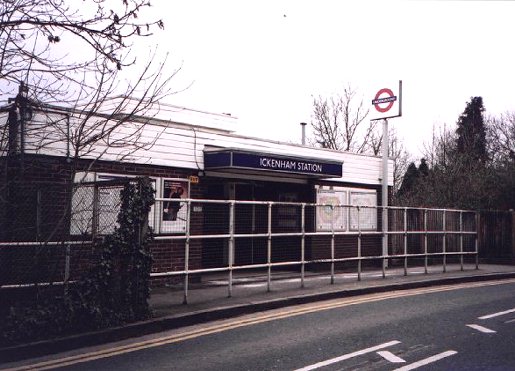 Ickenham station: On the road to nowhere?
When our train eventually trundled into Ickenham station we noticed that we were the only ones to disembark. Emerging out of the entrance we were greeted by an empty road and nothing much else – the place was deserted. As there were no signposts we had to make a decision as to the direction of the town centre (assuming there was a town centre). We turned left out of the station - as luck would have it we soon found ourselves in the centre of a charming village green – there was the water pump, a picturesque church and the library complete with aforementioned clock. One of the roads leading off from here was Swakeley's Road – this seemed to be the most logical route to take….
The actual entry in Pepy's diary is as follows:
"And so together we went merrily to Swakelys – a very pleasant place. Sir Robert Viner showed me a black servant boy that had died of a consumption. Being dead, he caused him to be dried in an oven – and there he lies, entire in a box. By and by to dinner…."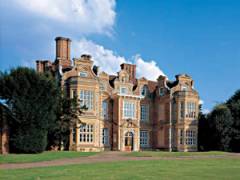 Swakeleys: For sale

Swakeleys is still very much there – in fact it's been turned into offices and at the time of writing is up for sale! We picked up a glossy brochure which provided a bit more detail:

"Set within approximately 18 acres of landscaped grounds, Swakeleys House and adjoining stables built in 1638 have evolved from their 17th Century origins into a striking office complex….Swakeleys Park offers both modern and character office accommodation in unrivalled surroundings…"

We decided against putting in an offer…

No song was forthcoming for Ickenham. There were various aborted attempts. The closest we came was with a Pulp inspired piece playing on the theme of a desolate English village with a haunted feel, on a hot, dry, summer's day.

Jinja via High Barnet

And so to J – at which point that we hit upon a problem – looking at the list of underground stations we see that there is no station beginning with J. The most obvious thing to do would be to move on to K, however, we had a brief:

"To visit 26 underground stations, A-Z, one for each letter of the alphabet etc etc". Surely if we left out J (or any other letter for that matter) we wouldn't be fulfilling our mission – it felt like cheating somehow…

A sudden thought occurred. Whilst in Ickenham we'd seen signs saying "Welcome to the London Borough of Hillingdon" which went on to list Hillingdon's twin towns – these being Schleswig in Germany and Mantes-la-Jolie in France. Now, most London Boroughs are twinned with other towns around the world…just supposing we could match up one of these with a town beginning with J? Surely this would count?

Well, we didn't have any better ideas….

We popped into Ickenham library (nice clock) and logged onto the internet…..

We emerged a short while later looking very pleased with ourselves…..Now it just so happens that there in a town in Uganda called Jinja: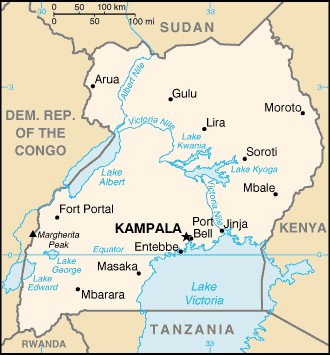 It turns out that Jinja is twinned with Barnet, London. According to London Borough of Barnet website "…the link between the former Borough of Finchley and Jinja was formed in 1963. Finchley received local government officers and was instrumental in their training…". We had our next port of call – it was back on the Northern line to Jinja via High Barnet…
Our journey to High Barnet took us all the way back along the route we'd just travelled from Highgate to Ickenham – only this time we'd be going back past Highgate and on to the end of the line to High Barnet. This was going to take some time….
Our quest was simple: to see if we could find any visible links to its twin town, Jinja….obviously a trip to Jinja would have been preferable, however as this was (a) not actually on the tube, (b) a journey that would take us well over our time limit…and (c) likely to cost more than the price of a one day travelcard - we'd have to make do with High Barnet instead.
Arriving at High Barnet we thought we'd search out one of those Local Council "Welcome to…" signs like those we'd seen in Ickenham. We soon found one, but alas there was no mention of a twin town. However, we were intrigued by it nonetheless: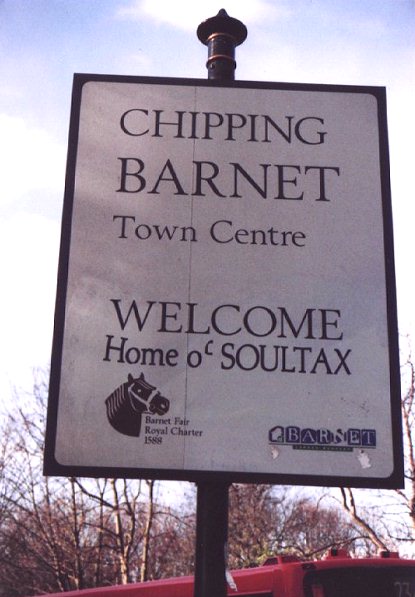 High Barnet: Home of soultax?!
Time for a comparison: Jinja has a population of 105,760 compared with 314,564 in Barnet. Jinja is bordered by Lake Victoria and the River Nile. It contains the impressive Owen Falls Dam which supplies electricity to most parts of Uganda and Kenya. Just outside Jinja lies a famous Hindu temple containing a bronze bust of Mahatma Gandhi – this reflects his association with Jinja as some of his ashes were immersed in the Nile in 1948.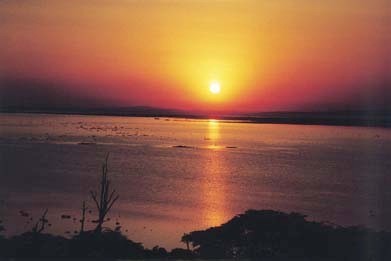 Sunset on Lake Victoria, Jinja
High Barnet meanwhile has "Bargain Buys":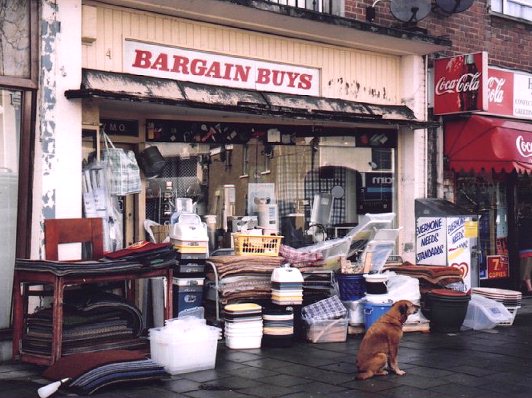 Welcome to High Barnet
Both towns have markets. The one in Jinja boasts of "occasional great clothing "finds"". This may also be true of Barnet's market though we doubt it offers the same sort of food as that available in the Jinja market which includes fried grasshoppers and white ants.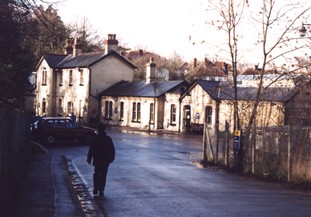 The long and winding road: Walking back to High Barnet Station
We walked back to High Barnet tube station (which in truth was quite picturesque) trying to figure out the criteria behind town twinning (Barnet has a Council officer responsible for this apparently). Where to next? Our tube/Tardis awaited…
No song forthcoming for High Barnet/Jinja. There were a few aborted attempts but nothing really gelled.

Kennington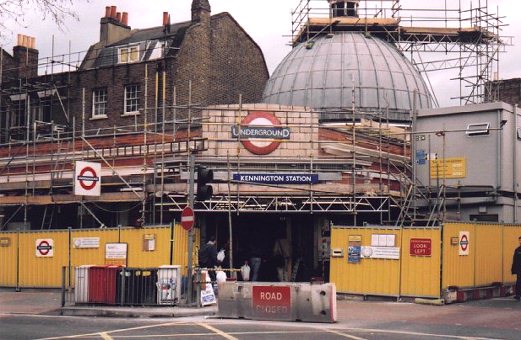 Kennington station: refurbishment plans appear to include a planetarium
We found ourselves plunging south – a straight vertical on the Northern line – no change necessary - to Kennington – a place I knew very well – indeed where I lived as a child. As we emerged from the station and began walking down Kennington Park Road, memories came flooding back. The station itself was doubling up as a building site – refurbishment in progress – more gentrification in what was once a real south Londoner's paradise. We stopped off at Kennington Park where my brother and I used to run riot – exploring the big circular water fountain, neither of us quite tall enough to see over the edge, unable to ascertain just exactly where the water was emanating from. And there, just round the corner was the music shop where I bought my first ever keyboard – a Yamaha DX7 – trying to emulate the Pet Shop Boys. Of course, this was really my gran's manor – she was the guv'nor round these parts. I remembered a poem I had once written about driving round town with my gran – she on her moped and me in the sidecar….
Kennington Forever – the song
Based on an old poem written about my gran. It was adapted into a song using an old piece of music that I'd had kicking around for a number of years. A pop song celebrating all things Kennington.
Kennington MP3 (2.2MB)
Limehouse

It was time to get on the Docklands Light Railway and head east to Limehouse. Although not officially part of the London Underground, DLR has become synonymous with it, interspersing and interchanging with the underground network proper at various points along its route, and so we felt it was a legitimate inclusion. It certainly does reach those parts of London which other transport networks fail to reach. We sat at the front of the 2 carriage DLR train and felt like the driver and his mate – fully automated, these trains have no driver and we wondered just how they knew when to stop and how to know when everyone had got on and off at each stop. There was also the feeling that we were on some futuristic roller-coaster ride.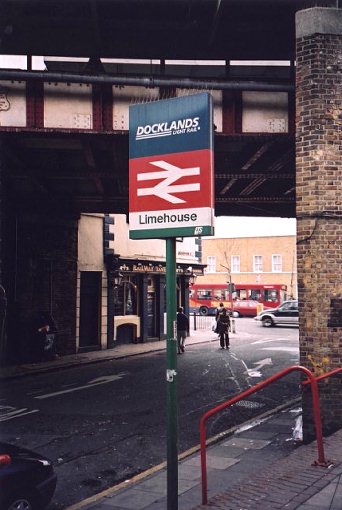 Limehouse: where the DLR and BR meet
Limehouse is a short ride east of Bank tube. As we got off the DLR train we noticed that there was also an overground railway station here. Limehouse is a place of two distinct halves – the old part, consisting of a few shops and dilapidated pubs and the new, with the quayside, river and harbour. Being part of the Docklands development, "luxury" apartments have been erected all along the river, their price seemingly determined by their proximity to Canary Wharf – the better the view, the more expensive the property.
The one distinguishing fact about Limehouse is that it was the place where the Social Democratic Party (SDP) were formed – The original "Gang of 4" decamping to Dr David Owen's flat somewhere in the area to make their now famous "Limehouse declaration" in January 1981. (Ah yes, we're nothing if not topical). We wondered whether David Owen had one of the luxury riverside apartments – we envisaged him sitting on his balcony sipping cocktails as he made his inaugural SDP address to the nation.
As we walked round the little harbour we tried to remember the names of the gang of 4…David Owen, Roy Jenkins, Shirley Williams and Bill Rodgers…All the boats moored up in the harbour had names that seemed to describe characteristics attributable to each member of the SDP gang.
Over in the old part of town we found an intriguing secondhand bookshop which also seemed to double up as a junk shop. It was full to the brim with books, pamphlets and other ephemera all piled up in no particular order. There was also a collection of Marvel comic books for sale. I'd loved these as a kid and started rifling through them to see if I could find any bargains. I was particularly struck by a copy of an old "Fantastic Four" comic and I started re-casting the SDP gang of four as some sort of bizarre superhero group. Indeed I began to imagine which Fantastic Four character they might each correspond to. David Owen would surely be Mr Fantastic and I could see Roy Jenkins as the Thing…I came a bit unstuck after this…I couldn't quite decide whether Shirley Williams or Bill Rodgers should be Invisible girl…
We asked the man behind the counter – who looked about 90 years old – to help us choose our next destination. He pointed up to a sign on the wall – it was a replica of the London Underground "bullseye" logo with the legend "Manor House" written on it – fate is a strange beast. I purchased my "Fantastic Four" comic and we left the shop…
Limehouse – the song
A song for Shirley – in which David Owen tries to woo Shirley Williams into joining the SDP. Based on another recent song entitled "Let's talk about you". Imagine David Owen as a crooner…

Manor House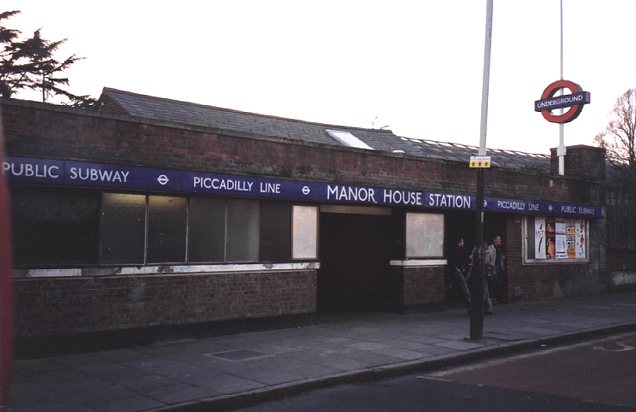 To the Manor House born…
Our trip to Manor house would take us onto the Piccadilly Line – a line which we'd hardly used in our excursion so far. Manor House was towards the north-eastern end of the line. There wasn't much to shout about once we got there. Certainly no manor house to speak of. The tube station seemed in desperate need of decorating – indeed there was a lot of building work going on at the road junction just outside. We were taken with the "Davlav" complete with phone number on the outside. This is the number to ring if one gets stuck inside the cubicle….erm, surely would have been better to put this on the other side of the door…..? Manor house also boasts a "JamCam" used in those pointless "drivetime" local news broadcasts. They do go in for their acronyms round Manor House way.
Manor House highlights…
Manor House – the song
The song – a mournful piece entitled "To the Manor House Born" – the idea of inheriting "Manor house" – the place - and finding it to be somewhat of a disappointment. What would Penelope Keith make of such a situation?
Manor House MP3 (1.7MB)
Northwick Park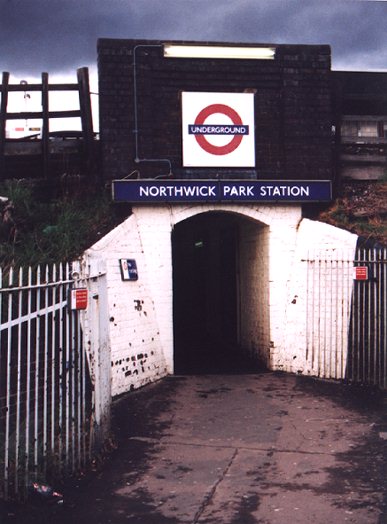 Northwick Park station: One for the Hobbits
Back on the Metropolitan line and another long trundle out west to Northwick Park. A quaint and picturesque station entrance – the sort of entrance a Hobbit might use. We came to Northwick Park on a mission – at this point trainspotters should take note. On the tube map we noticed a point at which the Metropolitan line intersects with the Bakerloo line: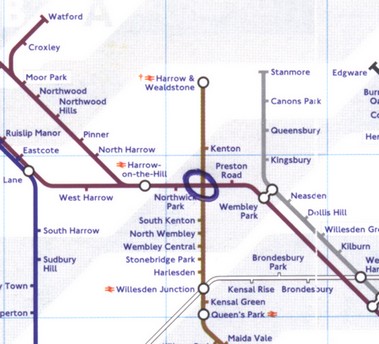 Northwick Park/Kenton interchange
However there was no station interchange here which seemed like an opportunity missed. We decided to investigate further. Walking back along the road parallel to the Metropolitan line we came to a footbridge and from here we were able to examine things in greater detail. The Bakerloo line travels north to south from here going underneath the Metropolitan line. In the distance to the North we could see Kenton station – anyone wishing to change from the Bakerloo to Metropolitan must change here and walk to Northwick Park. At the point of intersection between the two lines was a huge derelict building which would have made an ideal location for a station.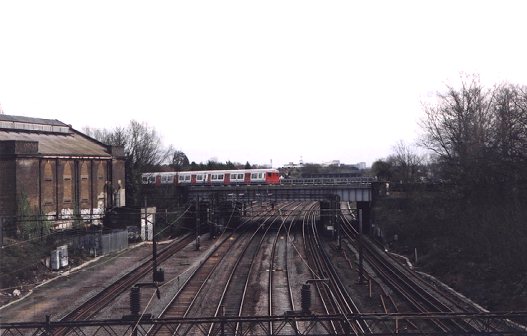 Bakerloo line looking south. The Metropolitan line runs above it east to west
At this point we started thinking about a friend of ours called Zahid, who lives in Harrow on the Hill but works in Wimbledon. He uses the tube to travel to and from work and we started analysing his journey. At present he must catch the Metropolitan line to Baker St, change here taking the Circle or Hammersmith & City line west to Edgware Rd before picking up the District line south to Wimbledon. How much easier Zahid's journey would be if he were able to interchange at our hypothetical Northwick Park/Kenton intersection. Then he would simply have to skip down the Bakerloo to Paddington and hop straight on the District line to Wimbledon – cutting out all the Baker St/Edgware Rd stuff in-between.
We decided to write to the Mayor of London about this. And Jimmy Saville. And Transport For London tube supremo Bob Kylie. Or was it Kylie Minogue?
Saturday was nearly over and we were running short of time. Time for a graph showing our progress thus far: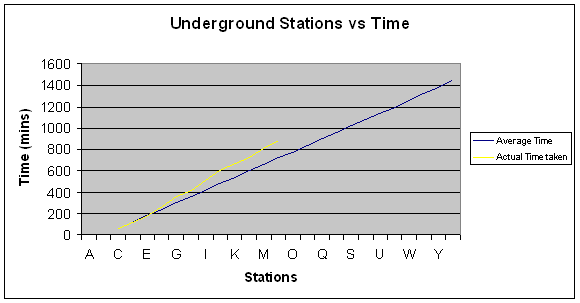 To recap - The dark blue line represents the average time taken between each station if we are to complete our "mission" in the time available. Our actual time taken is in yellow – to be on track this needs to be on or below the blue line. As can clearly be seen, we were starting to drift….those long journeys out to the extremities (Fairlop, Ickenham, High Barnet etc) were beginning to take their toll.
With this in mind we decided to visit the nearest "O" station we could find.
No song for Northwick Park. Perhaps in retrospect we should have done some sort of traditional Hobbit folk ballad….We did like this picture however – another shot of the station complete with moody grey sky: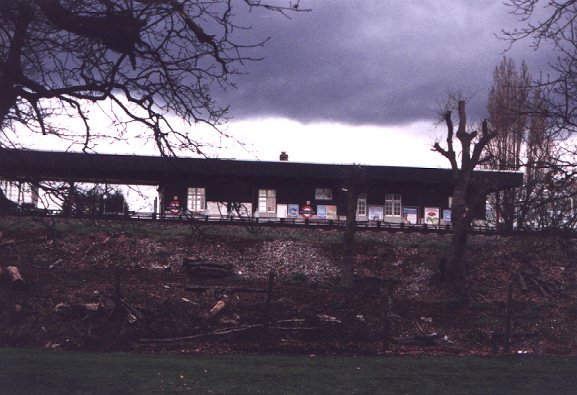 Oxford Circus


Oxford Circus station: this way for the London Palladium
Oxford Circus provides an interchange between the Victoria, Bakerloo and Central and lines.
A few facts about Oxford Circus – it is one of the busiest stations on the network – certainly the busiest, non-rail interchange, station on the tube. (85million passenger visits in 1996). Until 1782 Oxford Street was known as Tyburn Street after the River Tyburn that now flows underneath it. Oxford Circus was the place to be in the 1960s – the fashion capital of the city with Carnaby Street and Savile Row both nearby. The Beatles were frequently spotted in and around the area and indeed their Apple headquarters – where they performed their famous rooftop "jam" in 1969 (their last live performance) – is along Savile Row. It seemed like a good idea to pay pilgrimage to the Apple building and see if we could spot the famous rooftop. Alas, no sign of Apple today and very hard to spot which roof it might have been. Maybe some Beatles aficionados will write in and help us out…
Oxford Circus - The song
We toyed with the idea of writing something about or inspired by the Beatles however this never came to fruition. Instead we came up with a curious piece entitled "Central line" inspired by an interesting map showing the tube lines as they would appear if the tube map was drawn geographically accurately: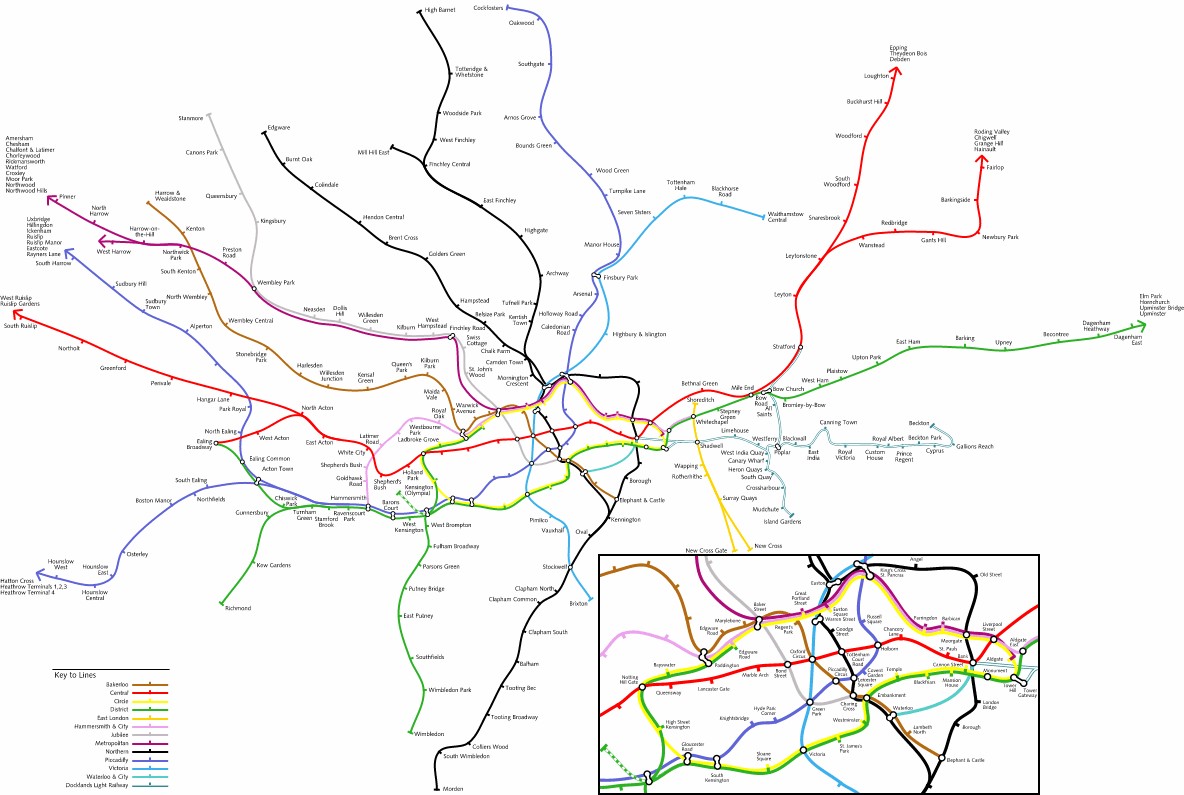 A pointless yet interesting fact about the Central line is that although it appears to be the straightest, most horizontal line running through London, it does in fact contain the sharpest curve on the entire network – the so-called "caxton curve" between Shepherds Bush and White City. The song is pitched somewhere between John Hegley and early OMD.
Oxford Circus/Central Line MP3 (1.9MB)
Day 2...