Adventures in Artspace March 2002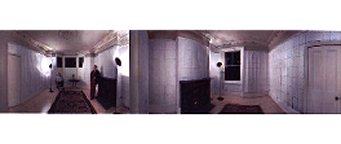 Welcome to artist Bettina Reiber's art gallery/living room in the heart of Highbury and Islington, London. We're here to perform our "Stop the Tardis" MK1 (a totally different piece to our subsequent Stop the Tardis Edinburgh show), an electronic music/spoken word/dance piece employing the talents of movement artist and poet, Aime Hansen. It's a progression for Project Adorno - a much more "performance" based piece than anything we've done before - "imagine how you are going to stand" barks Aime during one intense rehearsal period. And that's another thing - rehearsals! We've never done serious rehearsals like this before! Run-throughs, maybe, but never full on rehearsals with a dancer who is also very mindful of the state of the Project Adorno wardrobe. "What will you wear?" she asks as I tweak reverb units and fiddle with other assorted audio gadgets. These, to me, are the nuts and bolts of the performance and for a while it seems as though we're all working to different agendas. Thankfully things gradually begin to merge and gel, a happy and satisfying medium being reached between visual and audio elements.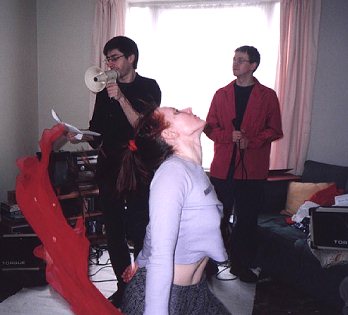 We have been charged with the following brief:
Stimulation @ ArtSpace
Following the positive response to Open, a drawing installation and related live music performances, ArtSpace is currently putting together a programme where we invite poets, performers, dancers, composers and improvising musicians to let themselves be stimulated by the drawing installation to produce a new piece of work.
We invite you to put forward a proposal if you want to be part of Stimulation @ ArtSpace. If you haven't seen Open during the launch of ArtSpace please make an appointment to meet us and to see the installation. Your proposal should contain an outline of your performance/poem/composition etc. and how it relates to the drawing installation.
About ArtSpace:
New and traditional visual media, contemporary music, performance, theatre and poetry readings take place at ArtSpace, an initiative by artists and curators Bettina Reiber and Robin Hull using their house in Islington on a regular basis to introduce fresh and experimental work to the public. ArtSpace showcases cross-overs between different artforms and collaborations which don't easily fit into more established art venues. ArtSpace works like a Salon as a meeting place where people come together to engage with art in the setting of a private house.
ArtSpace invites artists whose sincerity pushes the work beyond irony into a realm where vulnerability is exposed and personal truths are stated. It invites the audience to experience these quests and to respond to them in conversation with other guests.
About Open:
ArtSpace began with Open, a site specific installation by Bettina Reiber. About a thousand A 4 drawings were put together and suspended from the picture rails to the skirting boards as large paper
hangings. As they follow every architectural detail to completely cover the walls of both reception rooms, they draw attention to the congruence of architectural space and ArtSpace. On each A 4 sheet the same small motif is drawn in biro and repeated many times. The simplicity of this visual mantra and the modesty of the material signify the importance of the process and the meditative approach to the making of the drawings. Standing inside Open the viewer reflects on concepts of time and shifts her/his focus from activity to contemplation. Live performances of contemporary classical music exploring notions of time, meditation and repetition, complemented the installation. A multi sensory dialogue between the two artforms invited the audience to explore this new venue.

How could we possibly turn this down?! After initially visiting the space, our response is thus:
Outline of Project Adorno piece for forthcoming Artspace event:
Working title:
Stop the Tardis!
A journey through space, time and relative dimensions in popular culture
The images in the gallery have suggested various things to us. These include:
1. Space invasion/invaders - electronic computer games etc
2. Repetition & Rhythm
3. Frenetic activity & electricity
4. Inside of a spaceship (more specifically, Dr Who's Tardis!)
Combining these ideas/feelings/influences we arrive at a multimedia piece that fuses poetry, sound & vocal effects, samples, electronic music, and physical/organic movement. Themes range from melancholic musings to satirical send-ups of icons, myths and figures from popular culture.
It is a relentless collage - a landscape of ideas, with poems, sound and movement morphing, crashing and colliding into one another. A representation of the postmodern times we exist in.
Or something like that!
And something like that it rapidly becomes. We base the piece around music and sound from "Chunnel Vision" an earlier performance/video installation. The original piece was peppered with sound quotes from various artists, critics and other cultured types - we re-jig these, taking some out, moving others round and inserting new (or previously unheard) spoken word poem pieces - these include "Single", a homage to the trusty 7 inch record, "Deconstruction" - doing just what it says on the tin - a frenetic postmodern deconstruction of culture and society, "All grown up" - observing the transition from childhood to adulthood as the "ice cream van of childhood melted away…", and a curious new piece about Salvador Dali's disdain for washing up!
The piece is one long 15 minute sound collage full of twists and turns in timbre and tone. As is often the way with Project Adorno, popular culture becomes the overriding theme. As the two Adorno "vocalists" stand motionless at the back of the stage, the focal point is Aime with dance and movement inspired by both music and also theme/nature of each poem section.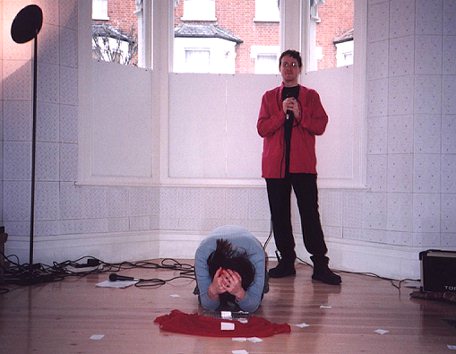 A quick dress rehearsal takes place at the Artspace itself a few days before the event - the place looking as striking as ever - devoid of any furniture, patterned drawings adorning the walls floor to ceiling - if anything looking a little smaller than we had remembered. Come performance day, just prior to showtime, we are all slightly subdued, locked into private thoughts and emotions, perhaps a little nervous. It's an eclectic evening - with performances from Luca and his theremin (played at ear shrieking volume), Brett's acappella singing - evoking the lyrical essence of the Artspace installation, and a striking visual/spoken word performance piece from two girls, Anjc and Filipc, among others. The place is heaving, our curators know how to bring in a crowd.
Our piece goes well, Russell running through his poems faultlessly, me using megaphone to good effect on "Anarchist Boy Wonder", a piece which Sunil, (our third "resting" Adornite) swears is about him (he's in the house tonight, watching, taking notes - he'll give us the post-mortem later), and Aime providing much needed visual content. The "Dali" item is proving to be a real success. We repeat the whole thing a couple of days later (the event has been running on successive evenings) to a similarly packed "house". Afterwards we spill out into the chilly spring air and make the decision to keep the "Stop the Tardis" title for another day - it eventually becomes the backbone of our Edinburgh show during the summer.