Project Adorno's A-Z of the London Underground


(Notes from the Underground 2004)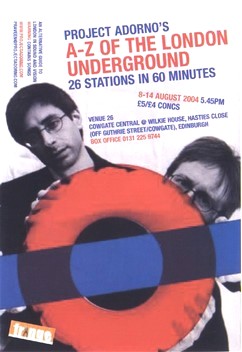 The brief: to visit 26 stations on the London Underground from A-Z, in a weekend, in the process writing a song or poem inspired by each location, ultimately creating an alternative cultural guide to underground London…
The idea became a reality and in turn became an Edinburgh Festival Fringe Show.

Day 2: Paddington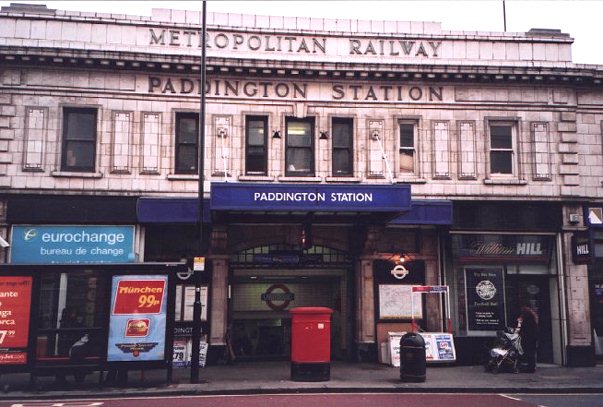 And so to day two and a trip along the Bakerloo line to our randomly chosen "P" station - Paddington. Curiously this was our first station to incorporate a main London rail terminus. The Paddington mainline station is often admired for its architecture and so when we got there we had a look round. Designed by Isambard Kingdom Brunel, it is a grand "shed" of a building and we found no shortage of statues around the place– the most prominent of them being this one: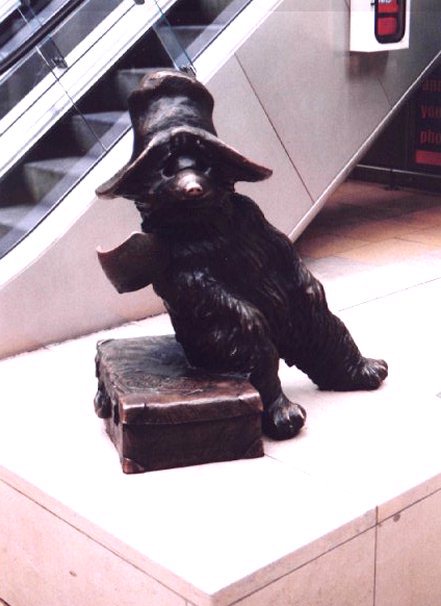 Brunel or Bear?

Of course, Paddington bear is the other "big name" attraction here. Indeed he appears to be much more marketable than Brunel – there is even a tacky stall selling Paddington memorabilia.

We wondered what sort of mementos a similar Brunel stall might contain – top hats and felt cigars perhaps? We also couldn't resist a look at the lost property office where Paddington ended up after travelling thousands of miles form Darkest Peru. Of course, these days his presence would probably cause a security alert and full scale evacuation of the station….he would probably be arrested for being an illegal immigrant…..

Back at the Paddington memorabilia stall we contemplated whether to buy a duffle coat or a pair of Wellington boots. Deciding against either, we asked the stall-holder to rummage in our RUSG for our next station.

No song for Paddington. We toyed with the idea of doing a cover version of the Paddington theme tune but decided against.



Queensway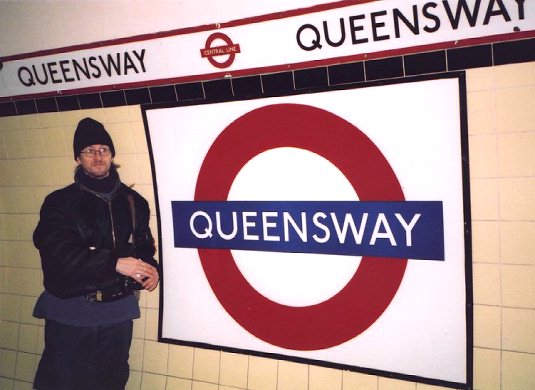 Queensway station: anticipating cold weather
It was off to Queensway – a short, yet fiddly, journey. A spot of ice-skating perhaps at the famous Blades ice skating rink? Arriving at the station we were impressed with the look of the station building. A few yards down was Blades – looking rather tacky and commercial. Don't think we'll be going there after all. In the other direction of course is Kensington Palace – but we decided to give that a wide berth also. No, this wasn't what we were after - We were looking for the spirit of alternative London in all its multicultural glory – neither of these seemed to represent that…. And then it hit us – we were in Kensington – home of world's Embassies and High Commissions – we couldn't get more multi-cultural than that. We turned off the busy high street and found ourselves in a tranquil tree-lined side road - and there they all were! Except we couldn't tell which country was which – each huge house along the road had a flag hanging up outside but unless the country was named above its entrance, we found ourselves floundering.
Queensway - the song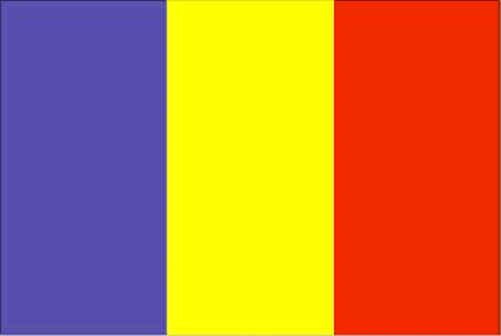 The flag of Romania or Chad?
It is a little known fact that Chad and Romania have got the same flag. We wrote a short, electronic piece explaining the story…old style Project Adorno in many ways…
Chad & Romania song
Russell Square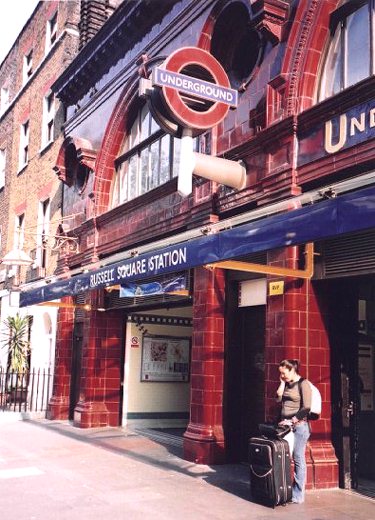 Russell Square station

In which Russell decided to play his Joker (I played mine at Kennington) and get in touch with his inner-self. A trip to Russell Square and a celebration of namesakes. We stopped off at the square itself – the weather was improving and the square was full of sun-worshippers.

Russell Square - the song

A rousing pop song containing reference to all those celebrity "Russells" that one might aspire to…or not. Musically loud and brash and fun to do live.


Russell Square Song
St John's Wood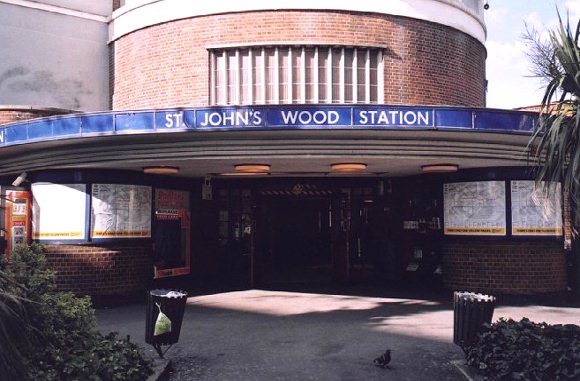 Back on the Jubilee line, we emerged into sunshine at St John's Wood. A picturesque station, though I was disappointed that they had replaced the old wooden escalators since my last visit there a few years back. Of course, many people go to St John's Wood to pay homage to the Beatles – the Abbey Rd recording studios being a short walk from there. It's become a traditional Beatles tourist hotspot – it's amazing how their legacy lingers – On the wall outside messages from fans are still being posted (though, must be said, the quality of messages is not what it was since my last visit), and we saw at least one person having their photo taken walking across the famous zebra crossing, and another photographing the "Abbey Road" road sign…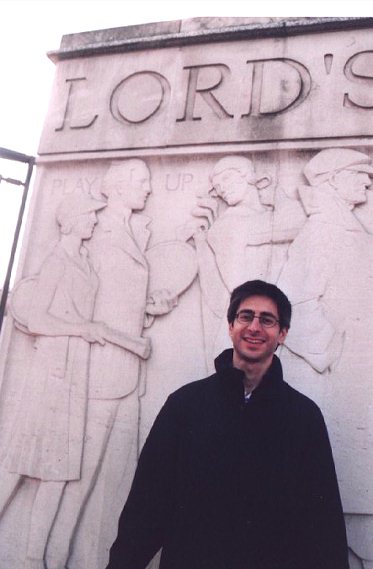 Trying to blend in at Lords
But we were done with the Beatles…instead we were more interested in the area's sporting connections – more specifically we started heading for Lord's cricket ground…home of the MCC. Not really alternative London I guess, although I have always loved the quirky and often, wooden, delivery of various cricketing commentators and TV presenters. Tony Lewis, Richie Benaud, Ray Illingworth….and of course the late, great Brian Johnston, the legendary radio commentator with a penchant for cakes (which his listeners used to send in by the barrow-load). There he would sit, in his ivory tower, commentating on cricket and much more besides….he was also a resident of St John's Wood.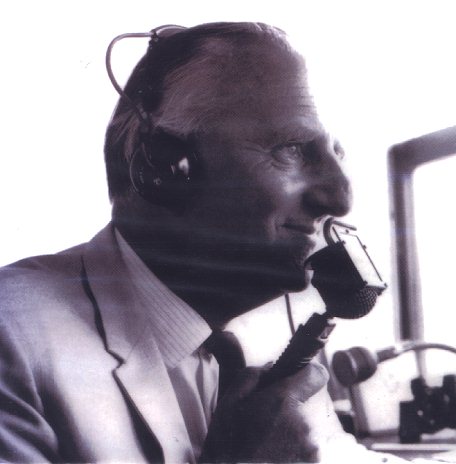 Brian Johnston complete with periscope
Like many British institutions, the cricket ground was a closed shop. Despite our very plausible Richie Benaud impersonations, the groundstaff wouldn't let us in for so much as a peek at the hallowed turf…..we asked one of them to choose our next port of call…..it was time to head south – we were going to Tooting Broadway!
St John's Wood - the song
The Ballad of Brian Johnston – in which Project Adorno go country and western! A melancholic piece telling the tale of Brian Johnston's love of cricket and also tennis. Turns out he had a bit of a dark secret…all is revealed within. Ballad of Brian Johnston song

Tooting Broadway
Tooting Broadway: because, as everyone knows, Tooting Bec is rubbish…
"Power to the people!" as Citizen Smith of the Tooting Popular Front used to cry. We had visions of running out of Tooting Broadway station and over the zebra crossing outside the station shouting this mantra at the top of our voices – exactly as Wolfie Smith used to do. However, once there, the barriers wouldn't accept our tickets and so we had to humbly ask to be let out by one of the station staff. That took the wind out of our sails to some extent. Furthermore, once outside we realised that the road layout had completely changed – the zebra crossing nowhere to be seen….how times change.
Getting to Tooting should have been a relatively straightforward journey- on the Jubilee line south to Waterloo and a change onto the Northern line from there. However, it took an age. The Jubilee line was "experiencing delays" and once on the Northern line we had to change at the famous Kennington interchange and then endure a lengthy wait for a southbound train to Tooting. We were getting twitchy – time was tight.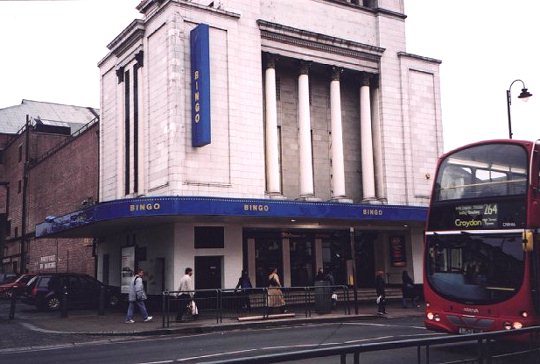 Grand ol' Granada Bingo Hall
At Tooting Broadway we wandered along the bustling high street. We soon stumbled upon the grand Granada Bingo Hall. Not much to look at from the outside but inside it was a gem of a place. What's more, it's now a Grade 1 listed building. We'd seen a poetry performance there a few years ago and were struck with the ornate and somewhat garish décor…
The Tooting Granada has been described as:
"…the finest evocation in Britain of the magnificent and sumptious cinemas of the 1930s. Architectural critics have been known to say "Miss the Tower of London if you have to but don't miss this". The interior of the Tooting Granada has a medieval look – also known as "Shakespearean Gothic" – the outer foyer with its cusping under round-headed arches, barley-sugar columns and quatrefoiled dado, sweeping marble staircases and inner chambers complete with full length mirrors and high ceilings creating an illusion of endless space – all owing something to medieval European work".
Bingo took over in the 1970s and although most of the interior has remained largely untouched, the mighty Wurlitzer organ (a staple part of the 1930s cinema-going experience) now lies buried beneath the bingo caller's rostrum.
We also learnt that the Granada was used as a concert hall and over the years had been graced with some real stars – the Beatles, Jimi Hendrix and in 1953 The legendary Frank Sinatra! Just imagine, all of them arriving in Tooting Broadway…we wondered what they would make of the place…
It was time to move on. In the mirrored lobby of the bingo hall we approached the woman at the reception desk. She asked us how many bingo cards we wanted…."None today thank you" we replied "but perhaps you could help us on our journey…"
Tooting Broadway - the song
A Bingo calling nonsense piece complete with dance – a bit of performance art really. (Inspired largely by experimental band Position Normal) We had previously worked on a Frank Sinatra/Leonard Cohen infused song called "Down South" - imagining what these legends would make of Tooting, but this got scrapped at the last minute. It was more or less completed and may re-surface some day.
Tooting Bingo song
Upney
It is a fact that nearly all of the stations beginning with "U" are in the east end of London.We were on our way to Upney – a long trek north into the City and then east on the District line past Barking – and it seemed to be taking absolutely ages. The closer we were getting to completion of our mission the more impatient we were becoming! The clock was ticking and this was one long journey we could do without. Our train was packed with West Ham football supporters on their way to the Sunday match at Upton Park. We were the only two people on the tube not wearing claret and blue….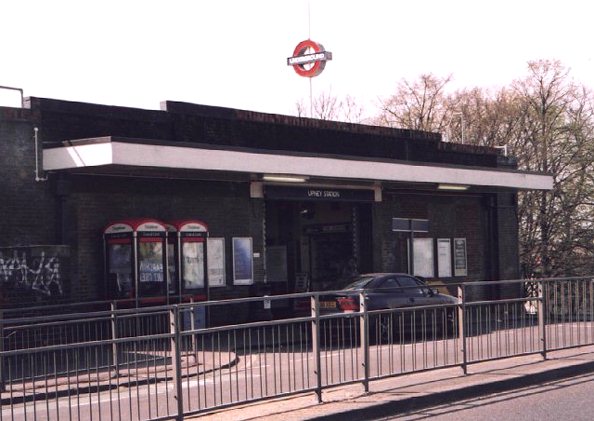 Upney Station: cunningly disguised as Ickenham
As we approached our destination we spotted the Upney sidings – they had looked impressive on the map but in real life were not much to write home about. Finally arriving at Upney we looked at the local interest map outside the station. There didn't seem to be much in the way of cultural landmarks in this part of the world. However, we were intrigued to see a chip shop marked on it. Feeling a bit peckish and with no other firm plans in mind, we decided to head for this.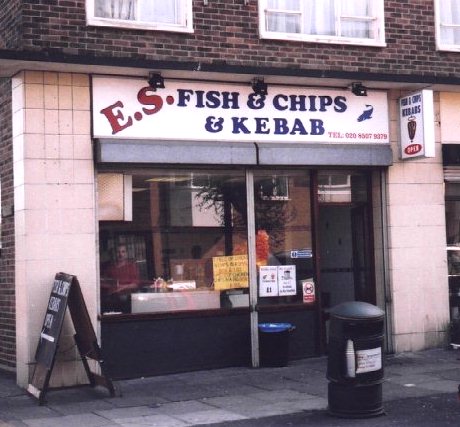 Fish & Chips: the Upney way
The chip shop seemed like any other – no distinguishing or outstanding features. After taking this photo we went inside and queued up for our chips. We hadn't realised everyone in the chip shop staring out at us as we took the photo. The staff behind the counter wanted to know why we'd taken it – we began explaining our mission…."To visit 26 London Underground stations, A-Z in alphabetical order, in a bid to discover the underground soul of London"….that didn't really seem to explain why we were standing in a greasy chip shop in Upney. We toyed with the idea of telling them we were writing a Which Guide to Fish and Chip shops (Upney edition)….but that seemed equally as implausible. They asked if we were students and we ran with this, resorting to the "local history project" excuse. We asked them if they had paid to have their chip shop pinpointed on the tube's local interest map. They seemed to know nothing about this…just what was the criteria for these maps? Was there someone sitting in an office somewhere, desperately thinking "Oh God…what can we put on the Upney map?!" After drenching our chips in salt and vinegar we made a hasty exit. Whatever else, it was nice that we appeared young enough to be students!
Whilst in this part of the world there was one pilgrimage we felt we had to make. Buried in Barking churchyard was Daniel Day – our Fairlop Fair man. We decided to pay him a visit. So, following the railway tracks, past the Upney sidings, we walked back to Barking and promptly got caught up in the busy market. We eventually found the picturesque church and began hunting for our man's grave. No helpful cemetery guides to help us on this occasion….however, it didn't take long….and there it was, rather faded, but the legend "Fairlop Fair" still clearly visible….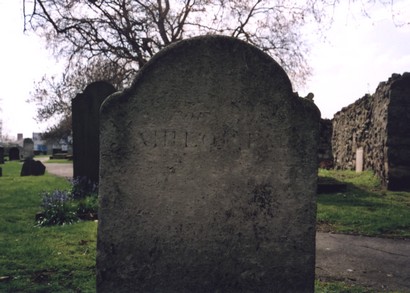 The grave of Daniel "Fairlop Fair" Day
Skies were blue and the sun was shining whilst in Upney. From the top of a wrought-iron bridge overlooking the Upney sidings we looked west. They say on a clear day you can see the river as far away as…Vauxhall?
Upney - the song
Upney sidings - A good old fashioned cockney knees up celebrating fish and chips down Upney way. A firm favourite of our repertoire!
Upney Sidings song

Vauxhall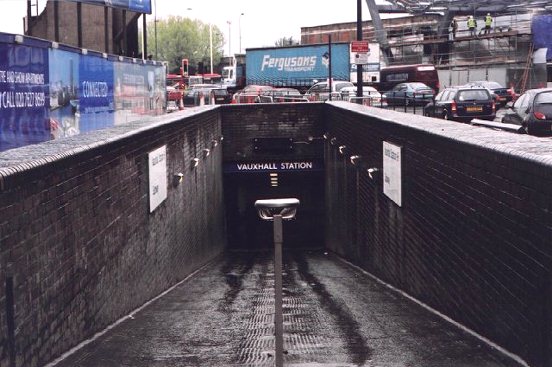 Down into the bowels of Vauxhall
Well, maybe the view from Upney isn't quite so far-reaching, however there were only two "V" stations to choose from (the other being Victoira) and Vauxhall seemed as good a choice as any. In fact Vauxhall and I share a history – I used to work at Millbank Tower, the 30 storey skyscraper on the northbank of the river right next to the Tate Gallery. (This was some years before the Labour party moved in to Millbank). Many a happy lunch hour was spent wandering round the Tate perusing its impressive collection.
By the time we reached Vauxhall the weather had turned. Vauxhall is rather depressing in the rain….
Vauxhall - The song
A flurry of ideas here. In fact, no less than four song ideas were tried out. The first was a Morrissey inspired piece entitled "Battersea Park". This was followed by a Blur-esque piece about Millbank Tower. Both were scrapped. Two subsequent songs were finished and both were performed at different performances of the show. Vauxhall Vox Pops was very much a "Waterloo sunset" affair – this will no doubt re-surface at some point ('cos we like it!). The final version which was used predominantly for the Edinburgh show was called "Sunny Vauxhall" – another semi-cockney piece name-checking numerous models of Vauxhall car and making reference to characters in Eastenders. Also contains the word "Vokhzol" - the Russian word for railway station
...
Vauxhall song
White City
We were heading west again, up to Oxford Circus and onto the Central line bound for White City, home of the BBC. White City was the location of the fourth Olympic Games in 1908 – and what a contentious event it was….
Held at the then new 68,000 seat stadium in Shepherds Bush, the 1908 games were played out under continually rainy skies and suffered from endless arguments between British officials and many of the other countries involved – particularly the Americans. These included the fact that among the flags decorating the stadium, the American flag was strangely missing. Worse still, Finland had to parade round the opening ceremony with no flag at all. The marathon was also a memorable event – ending in controversy when the leading Italian runner staggered into the stadium on the last leg of the race, took a wrong turn, collapsed and was half carried across the finish line by race officials. The second placed American runner contested the result. The Americans were eventually awarded the gold medal but only after hours of arguing amongst officials and fights also breaking out in the stands. Some lessons for the 2012 bid to heed…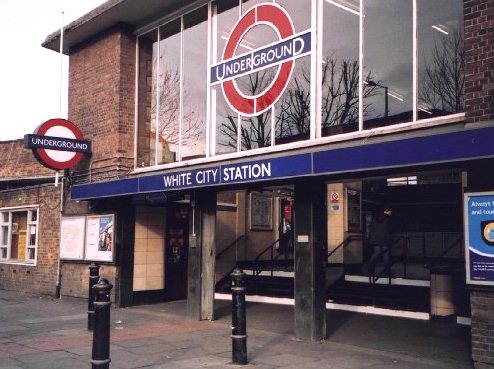 White City: as though the Olympics never happened…
We wondered if we could find the site of the old sports stadium. After being used for the Olympics it had evolved into a dog racing track but was now no longer in use….Arriving at White City there were few clues. We did find a blue plaque on the wall of the tube station which made reference to the games. There was also said to be a tunnel leading from the tube station that went directly to the Olympic sports stadium….this has long since been closed…we nosed around but couldn't really see anything tunnel-like. Across the way in the aptly named "Exhibition Road" was a newish housing estate. Hmmm…we wondered if this might be the site of the old White City stadium... There were some rather poignant signs such as "No ball games" and "No dogs" – rather ironic really given the history of the place. Indeed it turns out that the recently built BBC building is on the site of the old stadium…..a new twist on the debate about the BBC going to the dogs?
White City – the song
White City Blues – an electro/gospel/blues type number with a sporting theme. Another different style for Project Adorno. A love song of sorts.
White City Blues song
Charing X

Time for our X station, but hold on….as many will have guessed, no stations actually beginning with the letter X (or Y or Z come to that – and we will!)…..so a bit of creative thinking required….X marks the spot…..when places are described as being "X miles from London" where exactly is the measurement taken from? Charing X, that's where…..and so that had to be our next port of call.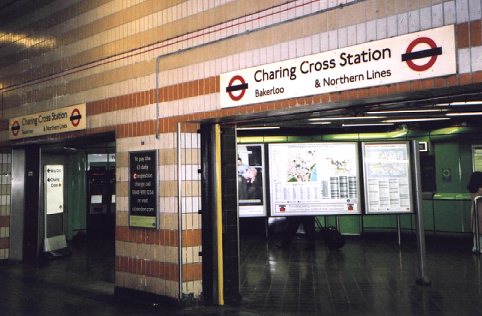 Charing Cross: no official surface entrance for the tube
We took a quick jaunt east along the Central line to Tottenham Court Road and then a few stops south on the Northern and we emerged at Charing Cross. We wondered if there was an actual spot – our true X for London. We started looking around.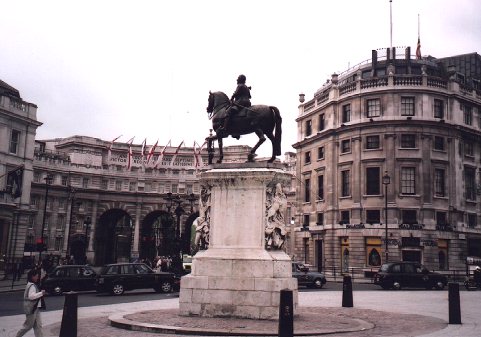 Charles I: Did that statue just move?
The Eleanor cross outside Charing Cross station is often thought to be the point where distances from London are measured. In fact the true point is actually the statue of Charles I just down the road at Trafalgar Square.
Charing Cross - The song
A jaunty piece taking the idea of the statue of Charles I coming to life and gallivanting around London…imagination is a strange thing! Charlie I song

York Road

X,Y and Z are all under-represented letters of the alphabet when it comes to names of tube stations. However, there was a genuine Y station called York Road but you won't find it on the map. This is because it's one the network's so-called "ghost stations" – those stations that are no longer open and operating as tube stations (there are a fair number of these – apparently there is a special "tour" one can do). Trains still pass by underneath but all evidence that a station exists has disappeared – at least underground…spooky…However, on the surface some of the station buildings still remain. It was time to seek out York Road…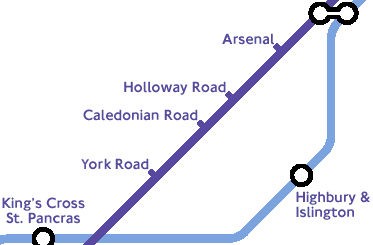 When originally open, York Road was a station on the Piccadilly line between King's Cross and Caledonian Road. It was closed in 1932 but there are plans to re-open it when Eurostar rail services start running from King's Cross. So, we were fairly confident that the station building was still intact. However, would it still be recognisable as a tube station? We walked from King's Cross in the direction of Caledonian Road in an area that looked akin to the end of the world – a huge amount of building and road work and industrial development going on. We had a bad feeling about this, envisaging the station to be raised to the ground…..We were pleasantly surprised when we found it. Not only still intact, but station livery, logos and name still very much in evidence….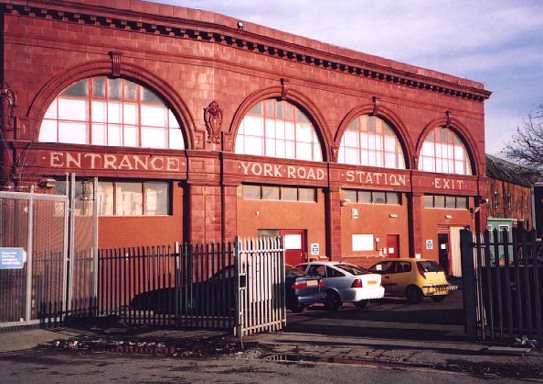 York Road: Ghost Station
York Road - The song
What else but a spooky, ghost-infested piece inspired in the style of Scooby Doo!
Zahid Junction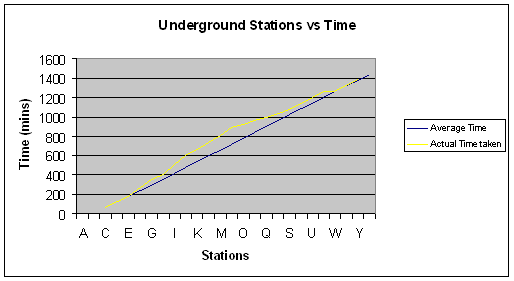 Despite pulling ourselves right back on track (the yellow and blue lines converging above) we were officially out of time – with still one station to go! But whichever way we looked at it there was no station beginning with Z. No twin towns or ghost stations to come to our rescue this time…
We returned home feeling deflated….. and were greeted two items of post – one was a telegram…from the Mayor of London. It was a reply to our request for a station to link the Metropolitan and Bakerloo lines near Northwick Park……planning permission had been granted, work was due to start…and as to the possible name of this new station – after careful consideration it had been decided to call it Zahid Junction….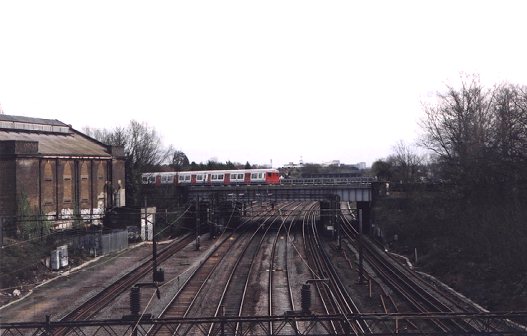 Northwick Park/Kenton interchange: soon to become Zahid Junction?!
Now that's what we call a result!
We had completed our mission: "To visit 26 tube stations, A-Z in alphabetical order, documenting our findings in order to uncover the spirit of alternative London" – in two days.
We phoned Zahid to tell him the good news about "his" special station. Turns out he was moving…to Wimbledon. You win some, you lose some.
As for the second item of post? – oh, a signed picture of Kylie Minogue….
The End
Praveen/Project Adorno 2004
Back to Part 1