Trains, Buses & Libraries tour 2003
Featuring Eastfield, Anal Beard and Project Adorno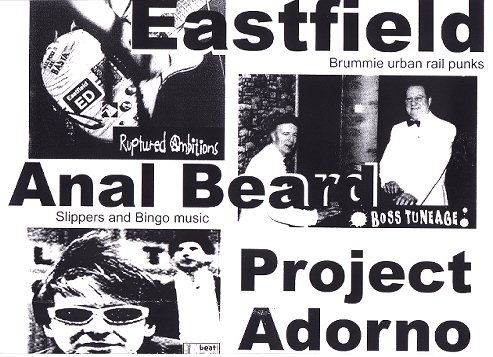 It was with some trepidation that we embarked on a 10 day jaunt with punk bands Anal Beard and Eastfield playing venues the length and breadth of England as part of the "Trains, buses and libraries" tour.
Punk audiences are renowned for despising electronic music in all its guises. How would an audience, turning up expecting full on fast guitars and shouty vocals, take to Project Adorno's blend of 1980's infused electro sounds and (largely) spoken word recitals…
We needn't have worried. Apart from a dodgy moment in Maidenhead it all went rather well…
Brighton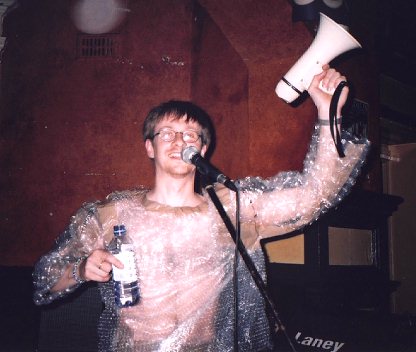 Project Adorno: Russell unveils his bubble-wrap suit

Hot and sweaty. The place is packed, everyone here to see Anal Beard (this being their home ground). Project Adorno open the evening and are greeted with chants of "Tina Turner" by the audience before we even play a note – most perplexing. Russell appears on stage clad in a suit made entirely from bubble wrap – he's literally dripping with sweat by the end.

Anal Beard bring the house down. This is the first time I've witnessed the Beard live and I'm already finding their songs irresistibly catchy – it's punk, but it's so much more besides….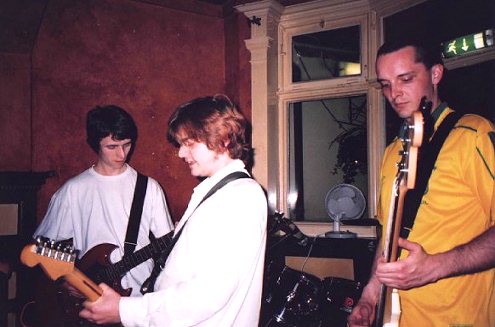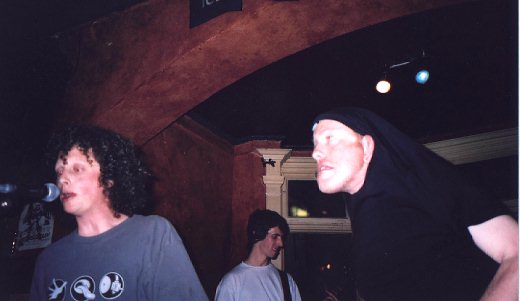 Anal Beard: Punk/Nerd quirkiness
The dynamics of the band are also part of the appeal. The interplay between two vocalists, Paul (Mr Beat Bedsit) and Richard is perfect. Indeed Richard is a star, striding purposefully into the crowd tonight and delivering his vocals from there (I wonder whether he always insists on having an extra long mic lead). The band is given extra power and gravitas by employing two guitarists - Roger and Simon duelling with their respective axes. A triumph for the Beard – they will find it hard to top this performance – have they peaked too early?!
Maidenhead
A warm bank holiday (it's Good Friday) and we join an "all-dayer" with many bands on the bill. Many of them appear to be locals – lots of angst-ridden teenagers. This turns out to be Project Adorno's most surreal and scariest gig ever.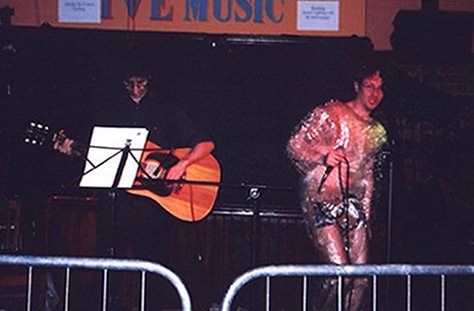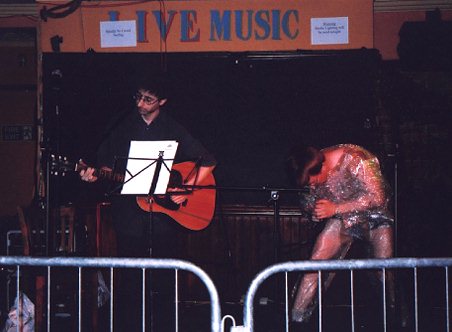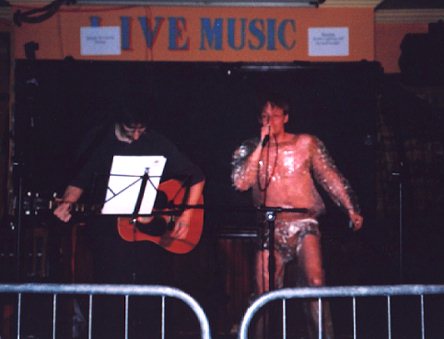 Project Adorno: Maidenhead triptych
The audience is sparse; there are crash barriers to prevent unwanted stage invasions (we should be so lucky!). Halfway through our set there's a disturbance at the back – it appears that one audience member is fashioning a makeshift flame thrower using his lighter and some sort of gas canister. The next moment he's round the side of the stage – uncomfortably close and adding pyrotechnics to our increasingly nervous rendition of "Pop culture". Russell, again clad in bubble wrap feels particularly vulnerable. Ironically we are trapped by the aforementioned crash barriers. It appears we'll have to curtail our set until someone thankfully steps in to remove our resident pyromaniac (thank you, whoever you are!).
Eastfield arrive on stage shortly afterwards and deliver a blistering set – they are one of the highlights of the day – it's fast, loud and tight – and moreover, perfect for this gig. There's only a smallish crowd for Anal Beard but they carry on regardless. Four "fans" are in attendance (at least they seem to know the words to all the songs) and sit in a line near the front on huge barstools. Their "Fanzine nerd" song is becoming an anthem…
A strange day, all told…
Leeds
I'm off to Bradford to visit my brother, a part-time member of Project Adorno, our sometime spin-doctor and director of communications. The Peter Mandelson of Project Adorno, if you like. Our next gig is in a couple of days. It's a tiny little pub on the edge of the city. There's a good crowd in, and plenty of high mohican hair action.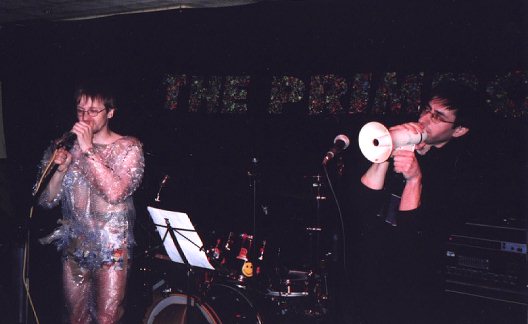 Project Adorno: the Leeds "come-back" gig
We're on sooner than we think, launching into our big pop anthem "Performance Art". We've decided to employ a different approach after the Maidenhead debacle – time to blast the audience with sound, segueing from one track to the next with hardly a break in-between. It seems to be working. The crowd are warm and appear to be enjoying it. "Davros" goes down particularly well. Towards the end of the set we throw in the more mellow, yet bitter and twisted "Letter to a line manager". We end, as we do throughout the tour, with "Double act", a hi-energy piece about being, well, a double act…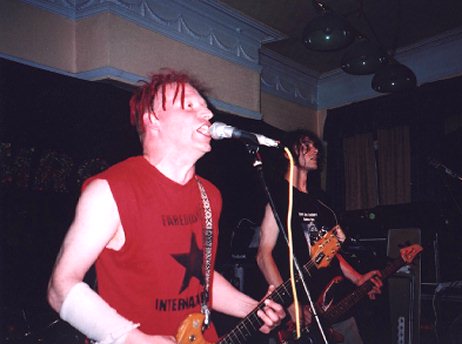 Eastfield
Eastfield and Anal Beard are on fine form tonight. I'm really beginning to get into Eastfield's "Henry Jackson" song. Anal Beard are joined on-stage tonight by Russell. A great night.
Lancaster
It's a pleasant drive to Lancaster for the next "leg". We arrive early and have time to look round the town. Everyone convenes at the castle and we spend a relaxing time there. Tonight's gig is in a huge hotel function room. Russell and I have decided that young punks tend to be a bit more open to our sound, whereas the older ones tend to be rather ambivalent. Tonight the place is full of old punks. Great.
After a good gig in Leeds we go for a full-on sound approach once more, kicking off again with "Performance Art". It works well. Russell is getting more and more animated with each gig. Tonight he doesn't stand still for a second. We're finding it works best if we stick mainly to the fast ones ("Sex Pistols", "Dali", "Pop Culture"), dropping in perhaps one slower one towards the end ("Nerd", "Line manager") before raising the bpms again for the big finish (always "Double Act"!). Well, that's our recipe…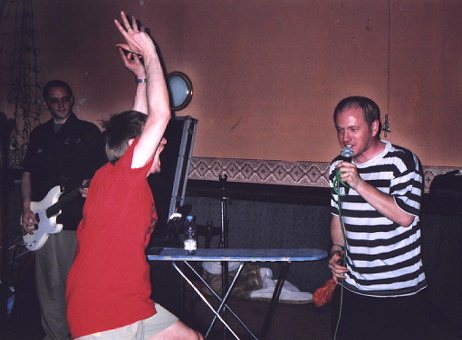 Anal Beard: Russell joins the Beard for "snake-charming" ritual
Tonight belongs to Eastfield. Despite numerous technical hitches including mic feedback (which is a problem we all have to face tonight) and mics refusing to stay in their stands (Jessi's mic being the main offender which finally gets gaffered into place), Eastfield get everyone on their feet. They are on fantastic form and get to do the first proper encore of the tour.
Barrow-in-Furness
Barrow is a stone's throw from Lancaster, just round the corner, so to speak. We arrive at the venue in good time - it's a good-sized pub very close to a large out-of-town Tescos. During the course of the day, each member of the touring entourage pootles over to buy drinks and snacks. There's not much else going on here. Streets behind the pub are small and narrow with houses nestling in neat rows - it reminds me of Coronation St (for the second time during the tour - prior to the Leeds gig we stopped just outside Bradford where the Coronation St factor is high). Whatever, it's all very northern. There's talk of a zoo nearby and some of the others claim to have seen giraffes on the way in.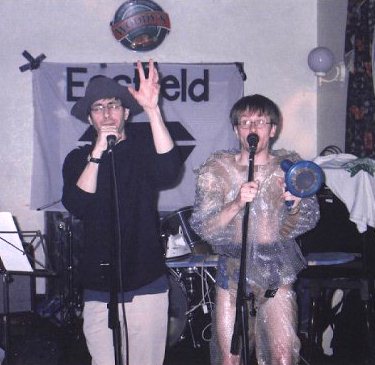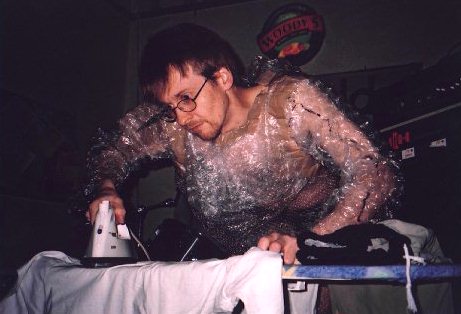 Project Adorno: Ironing in Barrow
Whilst I cannot vouch for this, what I can be sure of is the huge (and I mean huge) dog wandering round the pub that seems to take a dislike to me tuning my guitar. As usual, we're first on - and tonight we fly. There's a youngish crowd in – they look like students and though seemingly too young to get all of our reference points (Dr Who, Commodore vs Spectrum computers etc), indeed to know what the hell we're on about most of the time, they're really getting into it! Russell, as ever in bubble-wrap garb, does some extreme-on-stage-ironing tonight during "Performance Art". We do memorable versions of "Davros" and "Double act" complete with flashing disco lights. Afterwards we are virtually mobbed – one overly enthusiastic and rather drunk young fellow calls us "messiahs…" I think they like us.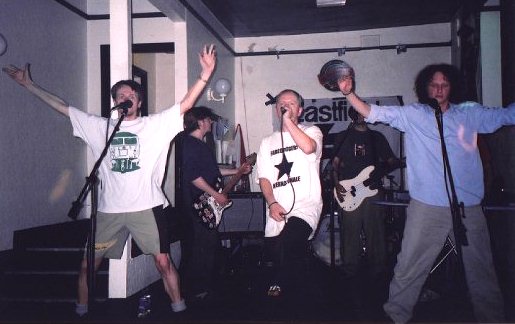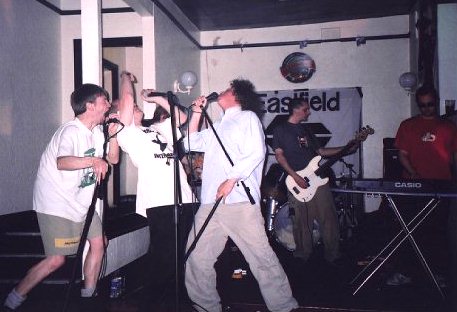 Anal Beard: A great Tuesday night out in Barrow
I escape to the back for Eastfield's set – they get the crowd dancing and all is flowing – not what you'd expect from a Tuesday night out in Barrow! Expectations are high for the Beard – we anticipate that the crowd will go wild for them. Russell joins them on-stage for dancing and shouty vocal duties (this, after a manic ProjAd set and front row jigging to Eastfield – don't know where he gets the energy!). Unfortunately it's all a bit of an anti-climax. The audience are rather indifferent (maybe too drunk by this stage?) – it's all pleasant enough, however, not the explosive end to the evening we'd perhaps expected. That said, I'm still loving them and tonight is in many ways my dream gig. A world away from Maidenhead. Tonight is Project Adorno's night! All too soon it's over – the huge dog suddenly makes a re-appearance (he's strangely absent during the gig) and we all leave clutching our Tescos carrier bags….
Birmingham
We're off down south to Birmingham – home territory for Eastfield. Jessi Eastfield has given Russell and I a comprehensive set of directions for getting to the venue. We negotiate the city centre without any hiccups and arrive at the venue in good time – it's in Birmingham's "warehouse and factory" quarter. There's plenty of time to kill before the gig and we wander into the city centre stopping off to eat bagels.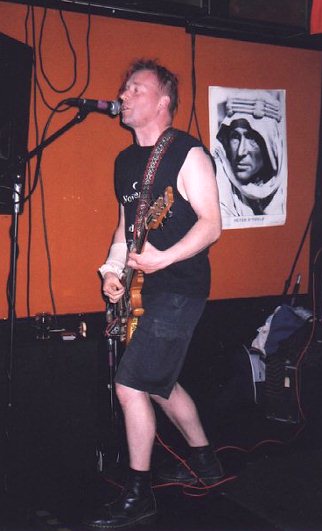 Eastfield: On home ground
Tonight's gig is in a smallish and very hot room above a pub, and for the first time all tour we don't go on first! It's a lively gig – two local and very loud bands open the evening and then we're suddenly on. It's a frenetic set – as usual we start with our big pop number, Performance Art, Russell adding to proceedings with more extreme ironing antics. There's a good-sized crowd in by now and they all look as though they're enjoying themselves (though I'm never convinced!). "Davros" goes down well
I seem to recall and in what seems like no time at all, it's over. Another quirky pop performance done and dusted – blink and you'd have missed us.
Eastfield are on next – a surprise – we expected them to headline, this being their home town. However, it is left to Anal Beard to wrap the evening up and they rise to the occasion magnificently. Paul and Richard both undertaking regular sorties into the crowd during their set (the like of which not seen since Brighton at the start of the tour). The atmosphere is electric, the Beard punk/nerd/quirkiness formula working to perfection. Another triumph.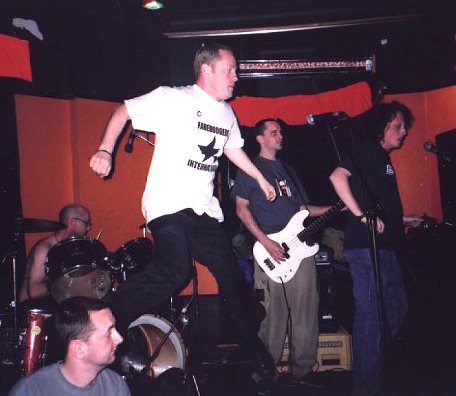 Anal Beard: Levitating
Exeter
The entourage meet up again in Exeter for a quieter night. We're in a small, yet charming pub with a compact triangular stage in the corner. Most of the gang are lounging around in comfy sofas in front of the stage. It's all rather reminiscent of someone's living room. Tonight's gig is "unplugged" – the two on a stage rule coming into play. A cabaret style performance suits Project Adorno to the ground and this is in many ways our easiest night of the tour. Various permutations of Eastfield and Anal Beard (featuring no more than two band members at any one time) take turns to perform.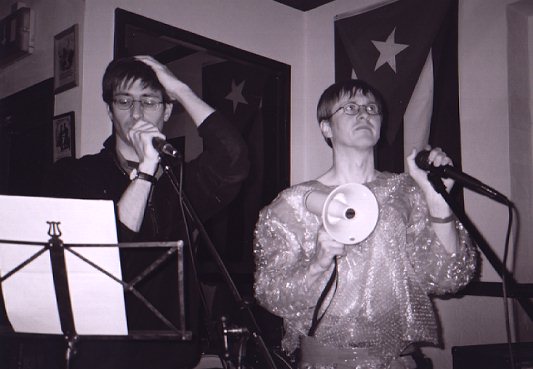 Project Adorno: collecting thoughts
Tonight's gig comprises a string of surprises. Firstly, Roger plays a few selections from the We Am Janet songbook – always a joy to hear "Tragic pig". Later in the evening there's an impromptu set from singer/songwriter Wob, who has turned up unexpectedly this evening. The Adorno set works well – the usual favourites coming in to play – Library, Davros, Line manager, Double act. It's beginning to feel formulaic! That said, another great night – just one more to go.
Plymouth
It's a bittersweet feeling driving down to Plymouth. Just one more gig and then we can relax, but at the same time it will sad to see the tour end. It's been hard work but great fun and certainly the good gigs have outweighed the bad. We're playing at the Nowhere Inn which is a known quantity (we played there as part of the last Beat Bedsit tour). We arrive early and have time to wander round some shops in town. All too soon it's time to set up and soundcheck at the pub.
As ever, the place is heaving by the time we go on (back in our opening slot). Most of the Bedsit crew are down at the front cheering and singing along during "Davros" (a particular highlight). Russell does a manic "Dali" – his dancing reaching fever pitch proportions tonight. "Jeremy" also goes down well this evening. As always at Plymouth it's an anarchic and chaotic affair – but a fitting venue for the tour finale.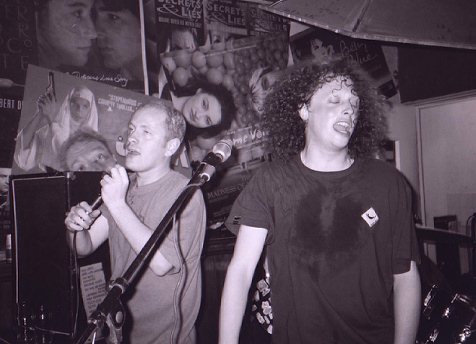 Anal Beard: In their own world
The rest of the evening is a little hazy – I think Eastfield are next on, complete with an ex-member who turns up tonight. Anal Beard, no stranger to this part of the world, headline the evening in style!
Suddenly it's all over – we've done it! Eight gigs in ten days (or something like that). Big high – Barrow, big low – Maidenhead!