The London Eye(s): a lesson in seeing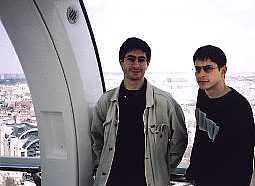 From time to time being in Project Adorno a freebie comes your way, and this time it was a ticket for the London Eye. Adding to matters it came with a beautiful sunny day.
I had not been in London for sometime. I met my brother at the tube station and we headed to Waterloo, everything running calmly. You get a time slot when you can 'board' and we were early, so we wandered off for a coffee that never quite happened. Seeing the wheel turning ever so slowly before me, it struck me that it could be somewhat unnerving to be up it. I had seen a TV documentary the end of last year, and I knew the trouble they went to in order to have a capsule that stayed upright via a gearing system and not the usual big wheel mechanism of gravity!
The queue for tickets is far far longer than the queue to board, and within 20 minutes we were getting to the point at which we would board the wheel that never stops moving. I could not help wondering how they had got it through health and safety that you step onto a moving surface, but well it was worth a smile. Smiles, shades and baseball caps are not in short supply, as at each turn in the queue are 'cool' attendants. It all feels somewhat American somewhat Disney perhaps, but of course nothing can spoil the slow turning of the wheel. Like Windy Miller's wind-sail, it just keeps turning and turning, though not a sound to be heard.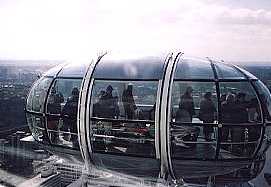 The time came to get on. There was that momentary mis-gait that comes from stepping off an escalator, but other than that nothing. And suddenly you are in the great glass elevator, except it does not seem like an exceptional space. I was dismayed at the speed to which I adjusted. In the middle is a wooden bench (I had seen crafted on the documentary programme) and all around was the structure of the wheel, beyond which London lies. I adjusted my physics. This was not going to be a scary journey. The technology, white, clean and thick glass (at places distorting) puts you all at ease.
The 'guide', a small pair of binoculars about his chest (perhaps in case of evasive manoeuvres or simply to affirm that indeed that is the palace!), informed us he would not say very much, that he was more than happy to take any photographs, and that when we reached the top he would point out a few things. The speed of the wheel is such that at times you think it has stopped. It takes half an hour to circulate.
The mood in the capsule, peopled with ten or so adults, was subdued to say the least. You wait to clear the base of the wheel that obscures your view. Slowly, almost without you realising, you are exposed to the views of London. For all the green of the London Parks you get to see very little that is lush, and sadly London looks drab and well used like any major city. We all went about our viewing, taking a few pictures, the obligatory man with his video camera was in everyone's way at least once, and the guide, when we reached the top, told us we could just see the Dome.
London disappointed me. That was a surprise. I had not been prepared for the nondescript that is packed about the elegance that was once London. But I started to wonder if it was all simply too much to ask. The romantic view afforded from a big wheel has so much to compete with. In a time when we can watch the city roll in the port holes of an aeroplane, when we can view thrilling 3D aerial models, and when cameras of our current documentary fad are seeing from angles we know exist, what can the wheel really offer? You are not watching out from the heights of any edifice that you know stands tall amongst it all, and the romance of looking out across from a bridge can not be felt in the clinical confines of one of these capsules.
My brother and I spent the time pointing out the places we used to meet. Where we had written lyrics for a song or where we had filmed some Super 8. We were pointing out that we had finished with the views and that was only half way round. We waited for its gentle descent.
This isn't to be cynical or to castigate the designers of the Eye. It is without doubt a wonderful contraption, but it is not some rites of passage. When the queues die down it will be a nice ride for the tourist, and it could be a pleasant thing to do one afternoon if your are more interested in your company than your activity. I caught myself thinking it needed more. Perhaps a coffee bar, or even some magazines. It has the feel of a revolving restaurant but without the food or waiters, and each time you do a complete turn the doors open and you have to get out.
I joked that I might refuse to leave. There is only so much time before the wheel passes disembarkation point and you would be stuck on it for a second revolution. My brother laughed at the fuss it would cause the attendants (they would have to be dynamic and cool all at once), but then it was clear from his face, that the last laugh would be taken away from me. I mean he was right I did not want to have spend another half an hour in the thing, like some hamster! The thought was enough to make me panic that I would be left behind!
And so the real day opened up as we walked away from the riverside. It was still early and we were in town. And it panned out just like the old days; we wandered about Charing Cross Road, bartering for a Bass-Station synthesiser and taking breaks in the coffee shops to get our stories straight. In short we got things done and in between we caught the sun of city life.



Sunil Manghani, Arpil 2000.