Orestes (1994)
In 1994 we were approached by the Carlton Dramatic society to write music for their forthcoming production of Euripides' Greek tragedy, "Orestes". Our first music score! Could we pull it off?

Initial preparation involved going round to the director's flat and playing her some demo ideas on a ropey old tape recorder. She seemed to like what she heard and so we continued apace, lugging audio equipment to rehearsals and trying out various bits and pieces whilst the cast carried rehearsing regardless. It had an air of the BBC's radiophonic workshop, Sunil, headphones on, hunched over mixers and cassette decks, Praveen furiously writing notes and working out cue points!
The whole process was largely "non interactive", music being slotted in at various moments, often to the surprise of cast members who suddenly found their lines accompanied by a lonely flute melody, or sinister orchestral slab of noise! In truth we preferred it this way and often slipped things in on purpose just to see what sort of reaction it got, and moreover, how it affected the overall mood of the performance.
We had numerous discussions with Simon, the sound engineer, on subjects as obscure as how best to emulate the sound of "hissing snakes". We toyed with the idea of sampling the sound of gas taps for this purpose before coming up with a suitable equivalent using the trusty DX7 keyboard!
The play was a success - a colourful affair, full of highly charged emotion (as all good Greek tragedy should be!). We performed "live" each night, ensconced in a space no bigger than a phone box, triggering our sequencers and a plethora of dodgy sound modules - a performance art sideshow in itself! Each night we made a ritual of turning up the bass just that little bit more during the already bass heavy "House of Atreus". By the end of the week the whole place was shuddering!
Apollo was miked up for the performance so as to ensure he had a booming echo on his voice. During the interval we would have discussions about hyperspace and the possibility of time travel (unplugged, needless to say!).
In short, we pulled it off and found ourselves back again the following year contributing music for the Carlton's production of The Tempest...
The Tempest (1995)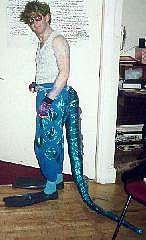 Another Carlton production for which we composed and performed music. Exactly one year on from our first theatre score we found ourselves back with the Carlton crew composing and performing music for their production of the Tempest. This turned out to be an altogether more organic and interactive affair.
Highlights included cast members performing "Caliban's" song in the style of 70s sitcom "It ain't half hot mum", and the hilarious and nurseryrhyme-esque "Tails, tails, tails".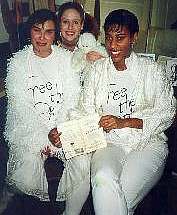 The "Bee Sucking" song was another favourite with cast and audience alike. Ironic when you consider that Praveen had been so concerned about using this piece that he left the room when Sunil played the initial demo idea to the cast! The anthemic "Wedding vision" became another popular piece, the vocals having been spontaneously recorded on a portable tape recorder during a 10 minute break in rehearsals.
Other pieces, such as "Full fathom five" and "Storm sequence" included vocal samples from the cast and various motifs inspired by Derek Jarman's film version of "The Tempest". Indeed to this day, of all the music we've written, these pieces remain amongst our personal favourites.
Our surreal conversations with Simon (sound engineer) continued (see "Orestes"), as we puzzled over how to emulate "News at ten" style Big Ben chimes. In the end the "bongs", as they became known, were sampled and played each night using a miniature and very cheap SK1 Casio keyboard.
Whereas "Orestes" had been a more "difficult" work, Tempest was perhaps more populist, containing all the hits! That said, the recording techniques used were more experimental. In addition to the music used in the play we also produced "Tempestuous", a dance remix of various tracks.

Midsummer Night's Dream, 1999

Project Adorno's third excursion into writing music for theatre, again for the Carlton Dramatic Society, and four years on from their last project. It was all a bit of a gamble really, Praveen agreeing to take it on - but this time working largely alone, without partner in crime, Sunil. As it turned out, both Sunil, and recent collaborator Edward contributed, and what at first seemed to a mechanical and lacklustre exercise eventually turned out to be one of the most satisfying and rewarding projects we'd ever been involved in.
Extracts from Praveen's email correspondence to Sunil during the period perhaps best illustrate the various stages (and moods) he went through leading up to performance:
Tues 21st Sept 99
Thanks for your help in getting MSND music going. Although it felt as though we didn't get much done whilst you were here, I have subsequently worked on development of "Lovetango" and "Oberon rap". Tried both of them out at rehearsal tonight to good effect. The rap is going to be a definite highlight! Our "Oberon" is really into it! We discussed the possible inclusion of stereotypical rap "moves" and suitable attire - in particular the "back to front" baseball cap look - getting a tad ahead of ourselves I fear, but good fun nonetheless! It's a good start - pieces coming together quickly.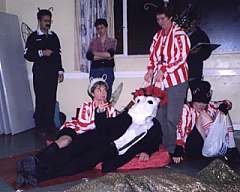 Mon 11th Oct 99
I've been working on a remix of Brahms' "Lullaby" based on your original arrangement (for "Tempest"). It's making a re-appearance in this production! (It's a good piece of work by the way - must have taken you ages to do!). I'm adapting it into a song for one of the fairies to sing to Titania! There's loads more to do - we keep coming up with ideas for new pieces!
Fri 15th Oct 99
It's all MSND at the moment - no time for anything else! Worked on a piece for "Bergomask dance" yesterday - sort of Jean Michel Jarre meets Pet Shop Boys - although on listening back it's more Dr Who than anything else! Still, I think it will work.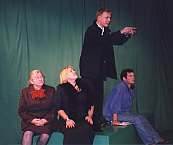 Mon 18th Oct 99
"Lullaby" has had to be pulled! The version I originally did had a big "Frank Sinatra" show feel (took me ages to get right as well!) but our fairy wants to sing more in an Elvis style! Back to the drawing board. Looks as though I'll have to try a version of "Are you lonesome tonight" (the B plan!).
Another annoying matter concerns the number of "cover versions" that are creeping in. I've done a version of "Mission impossible" which i'm quite pleased with, truth to tell (sort of Larry Mullen/Adam Clayton - if they had done it on a shoestring!) - however, it's rather boring to keep churning out covers. Moreover, it all becomes a bit of a cliché to my mind - lacking imagination etc. I'd have preferred it to have been completely original material. Although I'm pleased with progress as a whole, I don't think it's my best work.
Tues 19th Oct 99
Despite recent misgivings there are some pieces that I'm very pleased with and Ed's contribution has been great. It's been nice to have a "sounding board" and listening with two pairs of ears is definitely preferable. We've found a constructive working pattern. Ed tends to work out/compose pieces on his keyboard which we then download onto Cubase. I then tend to tweak and edit (as is my way!) and before you know it we have another piece to take to rehearsal! I'm looking forward to hearing Ed's version of "The pink panther" - a piece he admits to disliking! Should be interesting.
Sat 23rd Oct 99
Snowed under with MSND! Had a good rehearsal on Thurs (reminiscent of "Tempest" when we used to turn up with equipment and experiment with pieces "live" as rehearsals took place) - both Simon (sound engineer, yet again!) and I trying out sound and music on separate ghettoblasters - very radiophonic workshop! One thing you should know about Simon - he's excellent at cueing up tapes!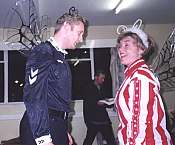 Today I've got one last mega session to complete all music before the tech rehearsal tomorrow. If recent rehearsals are anything to go by, I think it's going to work out OK. The play itself is going to be good I feel - some great performances etc. There are some good interactive moments (music combined with singing/rapping/dancing etc) and the rest is basically music for scene changes (good title for a spin off tape actually!).
I'm looking forward to performances - sitting in the wings with anticipation, adrenalin flowing, waiting for cues etc. The good thing about performance is that nothing more can be done by that stage - it is what it is!
Thurs 28th Oct 99
Three nights in and it's going well - indeed I had every confidence after the tech on Sunday (one of the smoothest I've been involved in). My work is done - everything is on tape (converted onto minidisc) so Simon's been doing all the hard work really! After seeing 2 public performances I can conclude that the music works well and seems to feature in all the right places. The interactive elements are working well (including our eleventh hour patch up job on "Are you lonesome"! - indeed that, for me, has become one of the highlights).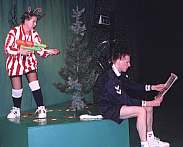 The play itself is very slapstick - very funny - despite having seen it many times I still laugh and find myself waiting in anticipation for particular lines. (Bottom's "Where are these lads" upon being re-united with fellow mechanicals is a joy to behold!). All in all it's been a challenge working largely on my own (although both Edward's contributions and your "John Lennon" like presence have been greatly appreciated).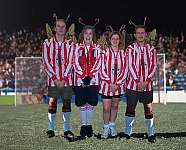 Virtually all pieces I've worked on have been included (or "shoe horned" in, more to the point!) including of course re-remix of "Lullaby" (included, then dropped, then reinstated!), your Greek inspired piece (from "Orestes" period) which became "Measuring music" (isn't it obvious!?) and even my "Orlando" inspired Elizabethan thing which Ed persuaded me to use! Although I'm reluctant to admit it, the cover versions have been a success, although I am glad we stuck to our own arrangements/versions rather than going with original/commercial versions. Despite this, it's the out and out original material (and particularly "Lovetango" hereafter known as "Transparent Helena") that's had the most (positive) reaction form audience and cast alike - the covers seem to be somewhat taken for granted!