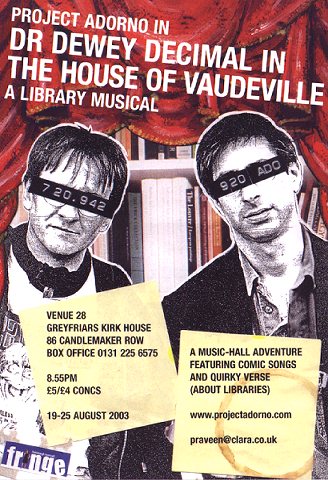 Dr Dewey Decimal in the House of Vaudeville


Project Adorno in Edinburgh 2003

We went, we saw, we….well, didn't quite conquer, but did have a great time performing a seven night run of "Dr Dewey Decimal in the House of Vaudeville" - an electro-beat-poetry-song-cabaret montage loosely based on the theme of libraries.

Along the way we met many old friends and made a few new ones too - all part and parcel of the "Edinburgh Experience". Spend any length of time along the Royal Mile during festival time and sooner or later you're bound to bump into an acquaintance or two.

This, then, is an Edinburgh diary of sorts, although this year chronology has been dispensed with - Edinburgh warps your perspective on time. I think it's the combination of so many new and colourful experiences and surprises coupled with the order, routine and occasional tedium involved in performing your own show. You end up not knowing what you actually did on any particular day.
A little administrational business
Fliers to pick up - we've had five thousand full colour postcards printed for a ludicrously small sum of money. The only gamble is that we don't actually get to see the finished items until we get to Edinburgh (they've been delivered to our venue) - we'll have to live with any mistakes. In the event the fliers are fine although it dawns on us pretty swiftly that we'll never shift them all in the time that we're there. They would make good bookmarks…..oh well, too late now.
Soundcheck - we're ready to do battle here with the benefit of having done quite a few of these pesky things in the past. Will the mics work? Will there be any DI boxes? What's the situation with mic stands? (normally one or other of these items are being shared by about four different venues). These are just a few of our concerns…..As it turns out it's a relatively smooth one - we are guided by Ruth who is very calm and makes everything sail reasonably plainly. Indeed it is worth mentioning at this point just how friendly (and efficient) the Paradise Green crew (our venue organisers) are - and they haven't paid me to say this. And, moreover, when you do Edinburgh, with so many things to think about, this sort of thing really helps.
The only thing to worry about at the end of the soundcheck is an annoying hum coming from one of the speakers. Oh, and a mic stand that doesn't - perhaps better termed a mic-lie-on-the-floor. We're reasonably confident these glitches will be ironed out in time for our first night.
Other shows pt 1
One of the things about doing a show at Edinburgh is how much it impinges on you being able to see anything else that's on - it's a logistical nightmare (I have previously designed a spreadsheet to help with this task). There are so many things getting in the way. For starters, there's obviously the time that you're actually on-stage yourself. In addition to this, it's vital to spend a fair amount of time each day handing out fliers to prospective punters - "selling" your show. This is augmented with opportunities to showcase actual bits from your show (songs/poems/booming thespian type activity etc) on specially erected High Street stages. We also found it essential to get a bit of free time in a few hours before the show each day to do a quick run through and generally prepare ourselves mentally prior to performance. And then there's the tiredness. Doing a show at the festival, although generally a happy experience (at least for us), is exhausting- sometimes you're happy just to wander the streets admiring the Edinburgh architecture, finding a park bench somewhere away from all the crowds or going back to your accommodation to have a quick snooze. It's all about pacing yourself. But hey, this isn't supposed to be a manual telling you how to "do" the festival! And despite the above, we did see a hell of a lot of good stuff!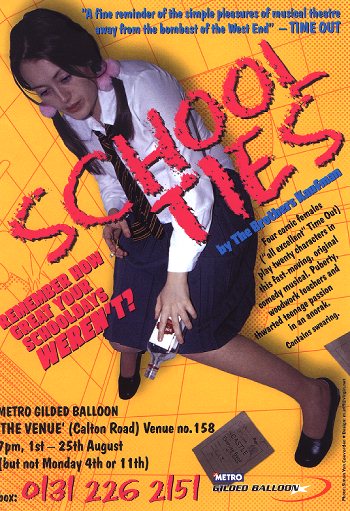 One of the absolute highlights was "School Ties" a musical enabling us to relive our school days. It's written and directed by the Kaufman brothers (one half of whom, Julian, we know from our days of organising Taking the Mike poetry events at Merton's Colourhouse theatre. Julian used to work there - indeed he did the sound at our very first TTM). The brothers Kaufman have written and produced numerous musical shows but I must confess this is the first one I've seen. And what a show - brilliant acting and singing from the four actresses on-stage, each playing a multitude of characters (children and teachers alike - all with instantly recognisable traits, moods and mannerisms). The songs are magnificent - Julian is there throughout perched at one end of the stage guitar in hand. Even after just one listen, I find myself humming the theme tune for days afterwards! We see the "School ties" crew on subsequent days giving it their all on one of the high street stages. Julian tells us he's met someone who wants to put the show on in America - with its very English feel, that would be interesting…
We also see "Ash" written by our poet friend Alison - a follow-up to the previous year's stunning production, "Rice". This year's piece follows in a similar vein - intense postmodern physical theatre - stunning to look at, poetic, powerful and moving.
Kit and the Widow are on fine form again this year (indeed there is a sense of déjà vu - many of last year's performers are here again - us included - and it does feel like only five minutes since we were here last) with more camp satire and lyrically brilliant songs. If anything, they're even better a year on. And speaking of repeat performers, John Hegley is always worth a look. His "Packed lunch" show is a delight - the combination of poetry, song and outright surreal behaviour working perfectly as ever. For this show the audience are asked to draw face masks (complete with glasses) using little bits of charcoal. Trust me, you had to be there. He never disappoints.
Club Luz is described as a "club night of electro songs and b-movie visuals, featuring a 12 number Kraftwerk and Kylie inspired, Laurie Anderson on speed solo set…" - it sounds like a must for Project Adorno. We go along late one night and are greeted with a pleasing cocktail of electronic music which ranges from ambient to pop and digital images projected onto the back wall of the stage. The artist on stage sings occasionally and dances a lot. It's all very minimalist and not at all disagreeable. It reminds me of my first foray into performing at the Fringe some years ago, with the somewhat experimental and over ambitious "Millennium suite" project.
Dr Dewey Decimal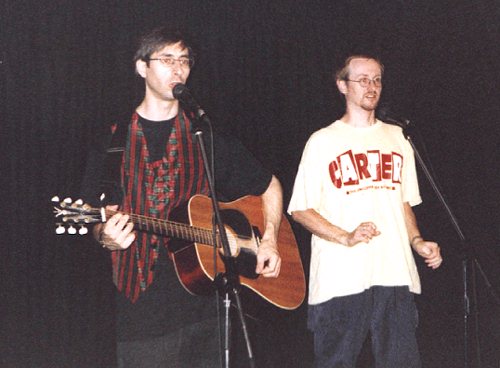 And so to our show, and the current incarnation of Project Adorno circa 2003. It's a two-man cabaret piece - songs and musical poems largely on the theme of libraries, with a twist of vaudeville thrown in. Electro-pop (of an eighties variety) is the closest comparison and I also strap on an acoustic guitar at various points to add some rhythmic garnish to the proceedings (gratuitous strumming or "strumfumbling" is probably the best description). The lyrical content is key - we start with the Dewey Theme - highlighting various features and facts from the life and times of Melville Dewey - the inventor of the universally known "Dewey Decimal Classification system" used by libraries all over the world - a glorified filing system enabling them to keep track of their book stock. It's all done in a mock-Victorian-vaudeville style, sort of….
It's certainly an uptempo way of kicking things off. From here we do a curious piece highlighting the intricacies of said classification system (one for the librarians really). To generalise things a little (on the assumption our audience, hopefully, won't be made up entirely of librarians) we do numbers such as "Bill Bedford" - a rocking yarn detailing the life of an odd-job man at an old people's home (rock n roll!). We also lapse into a cockney section during which we expose the little known fact that Pablo Picasso was himself a cockney h'artiste living in the east end of London. There's some audience participation thrown in along the way with "Library All Stars" a piece listing several famous bods who worked as librarians at one time or another (with one "bogus" librarian whom we ask the audience to identify). One of my favourite pieces is "Little PC" - a big show anthem detailing the rise of technology and electronic information. There's also a curious piece about Germaine Greer thrown in for good measure (on the basis that's she's a big fan of libraries).
It's a rag-bag collection - also including our dear old "Library" piece that we've been doing to death on the London poetry scene, "Cockney capers", a manic, nonsensical, nursery rhyme, "Five libraries" - from the perspective of a serial library user, a hymn to "Kirsty" the model librarian (thanks to our poet friend Ed for inspiration on this one) and a melancholy coda to round things off entitled "Oh, librarian".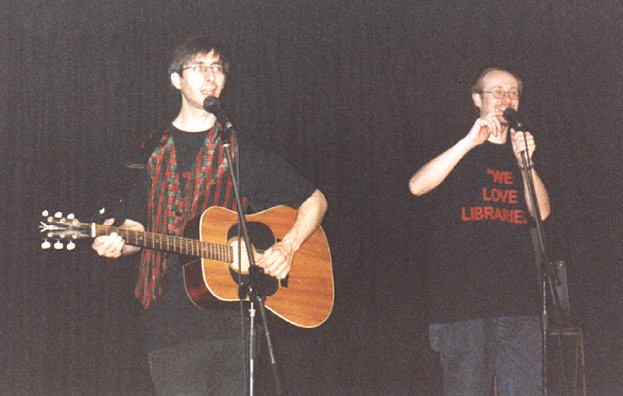 First nights at Edinburgh are always nerve-wracking - this one is no exception. One of the initial worries is whether you'll get an audience at all. Happily we get a good crowd in and things get off to a flying start. As first nights go (he says with the air of an experienced thesp!) it was a great success. The knowledge that you can get through the whole thing without any (major) slip-ups is a great confidence boost. We leave the venue on a high but no time to rest on our laurels - there's some late night fly-posting to be done. (All strictly legit - there are designated fly-posting pillars all along the High Street).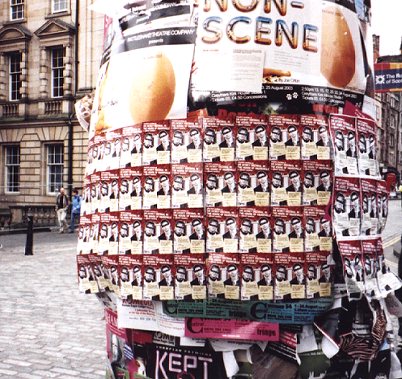 As the week progresses we settle into our routine. Audiences are holding up. Certain pieces are emerging as favourites amongst audiences. "Little PC", "Germaine" and (inevitably) "Library" are going well - often generating spontaneous bursts of applause at their conclusion. It's interesting - some nights audiences wait until the very end of the show before showing their appreciation, other nights they clap at the end of each song….."Library All Stars" is providing a real comedy element - due in part to our Russell's frantic attempts to hold up the right name-cards as I rattle off the list of librarians.
Various friends and acquaintances pop in on different nights including singer songwriter friend Nick (whose contribution to last year's "Tom Baker" piece was invaluable), Vasant Nath, who is directing his own Fringe play this year, poet Jude Simpson (who is also performing this year), James DeChapeau (who runs the 99 club, a comedy venue in London) and Julian Kaufman who likes our "organised chaos". There are even some reviewers in during the course of the week. We later get described as "holiday camp cabaret", our act being "tacky certainly, funny occasionally, entertaining perhaps". We kind of like this.
Of the seven nights, six go very well – consisting of appreciative, warm audiences who seem to be enjoying it, and a genuine feel-good-factor emanating at the end of each show. One, however, is a disaster – it happens to be the night that poet Rob Gee (of "Big Word" poetry) is in – seeing us at our very worst! The audience is thin and oh, so quiet – it's like a graveyard out there. Worse still, two people up sticks and leave half way through. We struggle through the performance but it feels as though we're wading through treacle.
But that's Edinburgh for you. And it's funny, despite six out of seven good ones, it's always the bad one that sticks in your mind.
Happily our last show goes very well with a vocal, responsive audience including Luke Wright and the Aisle 16 poetry gang making their presence felt down at the front. A few past and present members of the Paradise Green crew are also in tonight – some of them coming back to see us on the strength of last year. We end the run on a definite high with various audience members after the show proclaiming that we must return next year.
Hitting the High Street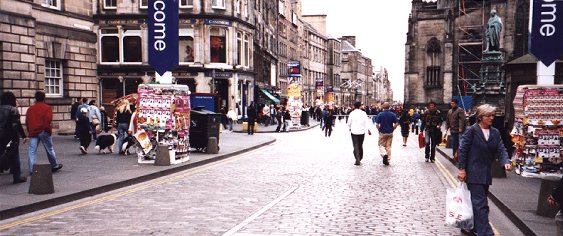 Every day we do a stint of leafleting on the Royal Mile. Luckily, the weather is good the whole time we're there – an important factor in this line of work. We use the Police Information Box as our "base" as we did last year – although it had more relevance then. We work up some suitable banter to attract passers-by – this almost becomes an act in itself! Numerous people ask if they can buy a "We love libraries" T-shirt like those we're wearing (alas, they are unique – another marketing opportunity missed!) and we get our photograph taken quite often. We also do some High Street Stage performances (not as many as last year). "Pablo" appears to be working best here – me strumming furiously on the old acoustic, and the two of us raucously belting out the lyrics in our best cockney accents!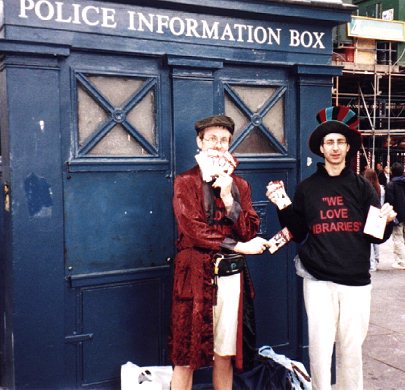 Being in Edinburgh also provides the opportunity to visit the chain of Avalanche record shops dotted around the city (there are at least three of them in Edinburgh). Of the twenty or so visits I make during the course of the week, I don't think I ever leave without having purchased at least one CD!
Other shows pt 2
There are numerous poetry shows featuring performers whom we know from the London poetry scene. We get to see some of them including Aisle 16 – hard hitting, gritty and very funny, and Jude Simpson with her "Ambrosia creamed rice" inspired show. I particularly enjoy her "Gadget man" piece!
Vasant Nath, who we met at last year's Fringe (where he was performing in a Shakespeare production) is back this year directing "Bedtime Story", a gripping and sometimes chilling take on the Indian epic, "Mahabarata". It's a great piece of theatre – another real highlight of this year's Fringe.
Back in comedy-land we catch Boothby Graffoe performing with guitarist virtuoso, Antonio Forcione (elsewhere described as "the Jimi Hendrix of the acoustic guitar" – it's a valid comparison). Any chance to see these two performing together should not be passed up. Boothby's songs are fantastic – surreal, very funny and also very poignant in places – and the interplay between the two performers is another great act in itself! This gig has been hastily arranged to coincide with the launch of Boothby's album, "Wot Italian?". We go to see their show directly after having done ours – it is the night of our "disaster" show and provides a much-needed tonic.

Jane Bom-Bane & hats
One afternoon after a particularly gruelling leafleting session we find ourselves in a church watching "Jane Bombane's Greatest Hats". Jane, accompanying herself on the harmonium, sings surreal and whimsical songs on such subjects as "The Edinburgh mermaid" and "Edinburgh rock". She even has a song called "I've got a goldfish bowl on my head". The goldfish bowl reference is not far from the truth as during each song she wears a different hat (all of which she makes herself) which is relevant to the song being sung. It is a charming performance. After the show we remind Jane that we once shared a bill at Chats Palace. We invite her to our show, although she seems more interested in showing people her "house hat" as they leave the church.
And in the end…a post-mortem
All in all, a very successful and enjoyable foray into the fringe. Organisation wise, it all seemed a little easier this year (probably helped having done it last year and also being at the same venue). One can see the worth in going year on year – it is a building process. We were particularly surprised and encouraged by the number of people who came back to see us on the strength of last year.
Opinion appears divided on the "Project Adorno" concept – those that like what we do are quite passionate about it, which is nice, however, it's not for everyone. According to the numerous post-show debates we overheard in the theatre foyer over the course of the week, we seem to tread a fine line between clever irony and whimsical tackiness. (Billing ourselves as "Kraftwerk meets the Krankies" probably adds to the confusion). It's a tightrope out there….perhaps we should join the circus! Maybe next year…
Praveen Adorno
Project Adorno performed a preview of the show at the Buxton Festival Fringe in July 2003. Read the review here